"THE ARK" GOES TO CHARLOTTE
or We see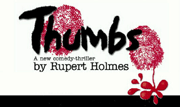 When we found out that Rupert Holmes' new play Thumbs would be having its preview in Charlotte, North Carolina, at the beginning of October, we decided to take a weekend jaunt there to see the play and stay overnight. It was only a four-hour drive and we thought we might be able to see some "autumn finery" and local attractions while there.
We also decided that for this trip, since it was so short, we would take the animals with us. Three years ago we had driven three-fourths the distance to Charlotte, to Chesnee, South Carolina, to visit James' sister and her family, and both Willow and Bandit had weathered the ride well. So I websurfed to www.petswelcome.com and found a Drury Inn that allowed pets and made reservations there.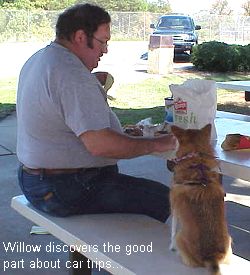 Bandit is, excuse the pun, usually unflappable. Given a comfortable, non-drafty riding space (budgies can stand a little cold, but drafts are bad for them), seed, occasional water, and someone to chirble to, he loves to travel. Willow is more problematic. She whines and cries the moment we have to reduce speed. She also has "security issues." Let James walk away and she cries the whole time he is gone.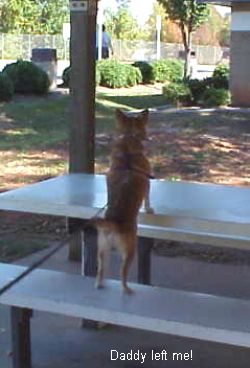 This trip was no exception. Bandit rode in his little carry box, gimmicked up with some clear plastic protecting him from drafts. Willow rode comfortably in her crate, but complained vocally every time we slowed down. When we stopped at the Gaffney rest area to eat lunch, James made a "potty break" and Willow let everyone know how unhappy she was about it.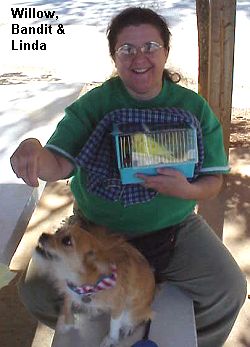 I'd forgotten Willow's bowl, so we had an unexpected stopover at that outlet haven, Commerce, Georgia, on the way up. Now I know why some people take weekend trips up here—there are two huge outlet plazas and numerous other small stores. You could shop for days given the proper amount of cash! Of course the Corning-Revere store was at the other plaza, not the one we originally stopped at. I took Bandit in the store with me and the cashiers fussed over him. Bandit ate it all up.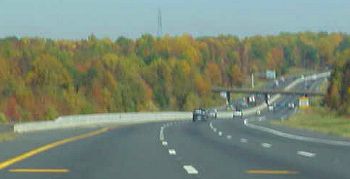 The ride up was very pleasant, in the 70s and sunny. In fact, a bit too sunny, as both James and I got a tad of sunburn. Neither of us can tolerate the sun any longer, James due to his high blood pressure pills and me since the dose of radioactive iodine 11 years ago, so it put a bit of a crimp in our later sightseeing plans. We were both drained by the time we reached the Drury Inn and our room.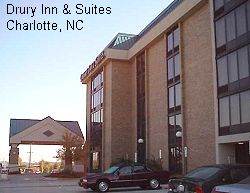 I can heartily recommend the Charlotte Drury Inn and indeed the whole chain if they are all like this one. The room was large, with a comfy king-size bed, a recliner, a television cabinet that also held a microwave (with popcorn!), a small fridge (with two sodas in it), and a coffee maker with coffee. There was also a desk with an extra phone you could use as a dataport. Had we stayed longer than overnight, I probably would have sprung for a suite. Plus the price of a night's stay included something they call a "Quickstart Breakfast," which includes waffles, French toast, four different kinds of cereal, oatmeal, orange and apple juice, canned fruit, bagels, muffins, coffee, tea, and milk. They also had an exercise room and a pool and jacuzzi.
We arrived in Charlotte, as I said, rather wrung out from the strong sun, so we spent the next two hours chilling out after getting Bandit and Willow settled. About five thirty we headed out to check out a small hobby shop on the way to the Italian restaurant we had intended to eat at. It was then I remembered that I'd left the theatre tickets back in the room! We were only fifteen minutes from the hotel, but fifteen minutes there and fifteen minutes back shaved off what time we had to eat if we wanted to be at the theatre by 7:30. We had eaten at a great local Italian place two days earlier, so we dined at a Bob Evans instead. It wasn't crowded, so the service promised to be quick, and it was. Our waiter, George (oddly his badge said "Victor"), was extremely efficient.
James had shrugged when we went in saying he could eat; I was actually hungry, but not actively starving. You wouldn't have guessed, however, by the way we wolfed down the dinner we were served! James looked at his cleaned plate fifteen minutes later and said, "I guess I was hungrier than I thought!" My plate was equally denuded. So much for a leisurely meal!
We then headed for the theatre, which we reached by simply driving south on North Tryon Street, not two miles away from the Drury Inn. We drove through some suburban homes and businesses, and then entered the city of Charlotte proper through what looked like an active industrial district. Downtown was actually quite lively, with several restaurants and other businesses gathering crowds.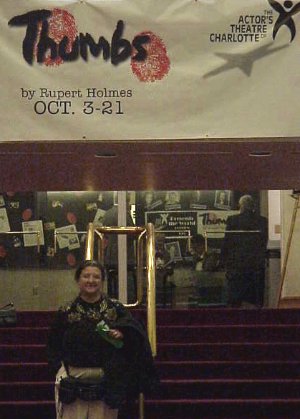 A left turn on 7th Street and we were at Spirit Square, the location of the theatre. We parked directly behind the theatre and entered through the rear. The theatre itself is part of a larger complex that includes an art gallery, closed of course at that time of night; it looks as if it is built in what remains of an old retail store or large business, but the inside has been fixed with faux columns and lots of sweeping lines.
Another surprise when we got into the theatre—it was quite pocket sized! I believe the brochure said the house holds 180 people (this includes the balcony); it may be a little more.
We were initially seated in the middle of the second row, along with a couple that had been waiting there when we arrived. However, after being cooped in a car for several hours James' bad knee was calling foul. Just before curtain we moved into the front row, which was actually level with the stage. When the actor who played Todd came out the first two times, he was about a foot from where James was seated.
The play was enormously fun—and of course the twists abounded; I expected no less of Rupert. I took the opportunity during the intermissions to scan some reviews of the play posted outside where they were selling refreshments, but didn't get a chance to read them at leisure, more's the pity. Rupert had some interesting comments about thrillers and the female characters who inhabit them.
Linda's Review of Thumbs for the Remember WENN Newsgroup

If I had to guess where Rupert Holmes conceived THUMBS, I'd postulate that it was as a passenger in a car driving down a narrow mountain road with about 50 hairpin turns.

In two hours of Thumbs there are plot twists for at least every one of those turns. <g>

Picture a simple, remote cabin in the little town of Barnstock, Vermont, a place where nothing much ever happens...well, except for four serial killings by a quirky murderer the local media has nicknamed "Tom Thumb," from the killer's bizarre penchant for chopping off those opposable digits from his victims. Now picture the least likely person to be in that cabin, Hollywood actress Marta Dunhill, the star of a hit television series in which she plays a helpful angel—"least likely" because self-absorbed Marta is nothing like the character she plays on television. Possessed of a sharp tongue which we first see her using to lash her long-suffering agent about a inadequate script she's received, she adds venom to the mix upon the arrival of her ex-husband Freddie, who apparently has summoned her to the cabin on some type of emergency.

Or—has he?

Quicker than you can say...well, "Tom Thumb"...Marta is involved in the fifth strike of Barnstock's serial killer, whereupon she meets Sheriff Jane Morton, an affable sort who rather "inherited" the post after the death of the previous sheriff, her husband, and her rather dim-witted nephew, Wilton Dekes, sole support of his mother, who acts as Jane's assistant. Marta's impatient to be done with her part in helping track down "Tom Thumb," but with growing unease realizes this folksy peace officer is going to disturb her peace much more than she realized.

Thumbs, which had its Broadway preview in Charlotte, North Carolina from October 3-21, was presented by the Actor's Theatre of Charlotte, which is headquartered in the Duke Power Theatre in Spirit Square. This is a very intimate little venue (I believe the theatre's seating capacity is about 180) which added a great deal to being able to get "into" this production. The house appeared well filled on Saturday night, the 20th, when we attended, and the audience became absorbed in the story immediately, alternately laughing at the gags in Act I and then reacting audibly to the action as the plot deepened and new surprises were revealed.

The standout performances came from Mark Scarboro as Wilton and Laura Depta as Sheriff Jane. The latter was very believable, especially as the plot twists grew more complicated. Scarboro frankly stole the show with his physical humor and interpretation of the fumbling Dekes. The other members of the cast were enjoyable as well: I was particularly fond of Tom Scott as Marta's emotionally battered ex-husband. However, although Cynthia Farbman made a good Marta, her portrayal lacked the tempered edge which is required of the character . The Todd character had a similar problem—a stronger actor needed to play the role, due to the strength of the characters of Jane, Marta, and Wilton. Against them, Todd occasionally proved too downplayed. Still, the production was as a whole excellent and well paced.

Knock on wood, Thumbs is heading for Broadway in the spring. A seasoned Broadway cast will run away with material such as this, so if you're a fan of chills and chuckles liberally laced with surprises, this should be just the tale for you.

Yes, I'll say it—a big "thumbs up" for Thumbs!

* * * * *

The URL is still there if you want to see pictures of the cast:
It must have been the tiredness from the sun, but after the show had finished and we were done with the applause, we exited immediately. Mark Scarboro, who played Wilton, came out from backstage as we were leaving and we told him how much we enjoyed the show, but instead of lingering as we usually do, we just headed out. Didn't realize until the next morning, after we'd both actually had a good night's sleep, that we probably could have met the whole cast! Ah, hindsight... Darn, I would have loved to have told Tom Scott how much I enjoyed his performance as Freddie.
James was parched, so we headed back to the hotel via a Walgreen's and got some Coca-Cola for him and ice cream bars for both of us. Once back at the hotel I got on the WENN chat for a short time using my new Jornada (I had gotten a modem for it last week and downloaded both chat software and IM; it came with an e-mail function and Internet Explorer). It worked quite well although the typing looks funny on that tiny screen! But my eyes were finally so gritty I had to get offline.
We then basically collapsed in bed and rose at nine only because we wanted to make it to the breakfast buffet. It was quite delicious and I filled out a comment card telling the Drury people how much we liked their hotel—and their pets policy! We'd really enjoyed having them with us—and Willow fell in love with the room the minute James pushed back in the recliner. ("Oh, wow! They have one of these here, too!")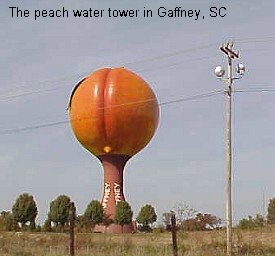 Then the Ark was back on the road. Again, a nice drive. The autumn color was most apparent in North Carolina—it was odd; the moment you crossed the border into South Carolina the color became muted. I took some photos from the car (see below), but the best picture was not to be—there is a lovely view of King's Mountain when you come up I-85 northbound, and we'd seen a rest area on the southbound side that looked like it gave you a great view of the valley and then the mountains themselves. Alas, the road into the rest area was the one that provided the spectacular view; by the time you reached the area proper and could park safely to take a picture, trees blocked the view. I wonder if the DOT knows a northbound overlook would be much appreciated?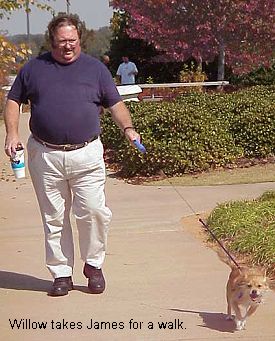 We had an amusing stop at the South Carolina welcome center: Willow cried the whole time James was absent, despite my introducing her to some maintenance workers. She wasn't distracted by their petting at all—James said he could hear her from inside the men's room! People also pointed at Bandit and said, "Look, a bird." Bandit just blinked at them. Our seasoned traveler.
On the way back to the car, I spied a grey tabby-and-white cat in the bushes. Willow was so busy sniffing that she didn't see the cat sit up straight and stare at her with big eyes, but she did notice the moment it scrambled up a tree, glaring at her balefully.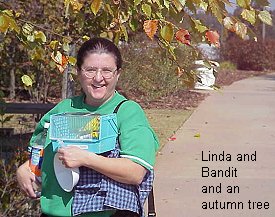 We had our final picnic lunch at the Georgia Welcome Center, then traveled on home.
Color in North Carolina