Alexander Says WENN
Seinfeld's Jason Alexander, that is — he's guest starring on Remember WENN
from TV Guide, September 1, 1997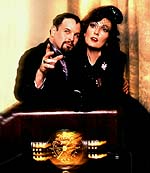 ---
It's amazing what the right dress can do.
It was a dress of her own design that actress Melinda Mullins of Remember WENN wore to this year's Screen Actors Guild awards that helped lure Jason Alexander into a guest-starring role on AMC's nostalgic comedy-drama series next month.
Of course, it helped that the actor who plays Jerry's pal George on Seinfeld also happens to be a longtime pal of WENN creator Rupert Holmes (singer-songwriter of the 1979 hit "The Piña Colada Song"), as well as a fan of the show. "Jason is friends with Rupert, so I used that as an excuse to say hi," Mullins explains. "At that point I shyly turned away, revealing some of the wonderful traits of this dress I had made…or lack of dress."
Voilà: Not only is Alexander guest starring on WENN — he even agreed to direct the episode.
The actor plays a mentalist with whom Mullins's married character, Hilary, has a bittersweet romantic interlude. "They're kindred spirits," Alexander says. "They would probably make a very good couple, but circumstances don't allow it."
What is it that draws stars like Alexander, Harry Hamlin (who was on last month), and Whoopi Goldberg (next season) to a quirky series set in a Pittsburgh radio station just before World War II?
"The show is like an Edwardian play — emotional life gets stepped on for the sake of accepted manners, and that's terrific for actors to play in," Alexander explains. "It doesn't have a laugh track. It's scored like a movie. And the setting is a glamorous time; people went out of their way to look wonderful. That's what people enjoy watching.
"Besides," the actor adds, "Rupert is a genius."
Back to WENN Articles Page
---