The WENN Studios "Blueprints"
Below is an annotated version of the original plan for the set (it's 35K and may take a few minutes to load, depending on your modem speed). The red lines are my attempt to map out some of the unseen rooms as well as the corridor we never saw.
The storeroom, which should be of a size to hold the steel transcription disks as well as the sheet music, the Life Savers, and that Bromoquinine <g>, may be drawn a bit small. The men's lounge also may extend to the width of the writer's room; these are correctable should I find out differently.
The |———| symbol at the end of the corridor paralleling the storeroom is meant to indicate a window, probably the one Scott crawled out on to get across to the ledge of the Petroleum Building in "Some Good News, Some Bad News."
Although we saw indications of the locations of the storeroom, Studio B, the men's lounge, and the closet of the writer's room, no mention was made of either the cloakroom or the ladies' room; they have been placed where Rupert Holmes imagined they would be when setting up actions within the script.
Here's a peek at a smaller version of the original drawing. You'll notice I have "pushed" the wall back where the storeroom door was originally drawn, as it did not look as if the corridor to the window was quite wide enough.
The original drawing of the studio is courtesy Rupert Holmes, to whom I extend a hearty "thank you."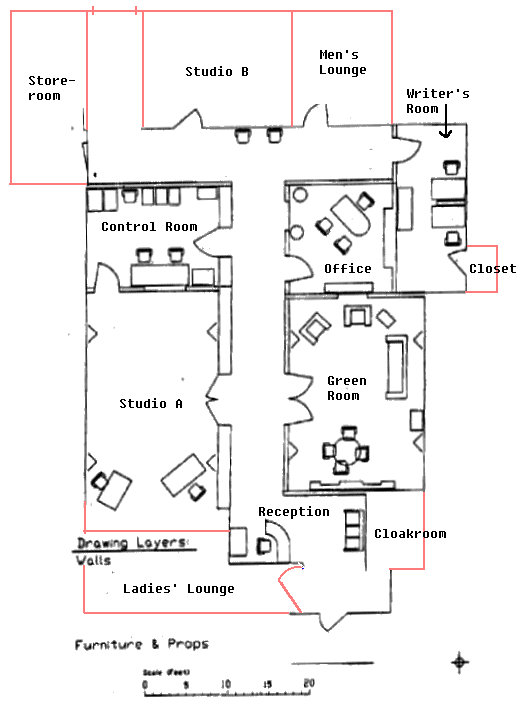 Back to Remember WENN Extras Page