First-Degree Burns
Jack Zink (Sun-Sentinel )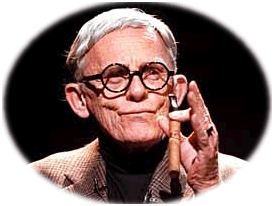 August 25, 2000—It helps, of course, to have renowned mimic Frank Gorshin when your play is about an even more renowned subject like George Burns.
But it also helps to have a great script and direction when you're Frank Gorshin, facing the daunting task doing of a one-man show about a legendary entertainer whose name alone fills the mind's eye of your audience.
Seldom are those artistic relationships as perfectly integrated as they are for the world premiere of Say Goodnight, Gracie at the Broward Center. The play and performance fuse into an incandescent theatrical moment. All that matters are you and Frank and George.
And Gracie.
Rupert Holmes' lustrous, touching and bittersweet drama makes Gracie Allen as much a presence as Burns for most of its 75 minutes. The Burns and Allen comedy team was one of the best-loved and longest-lasting in show business, from 1923 until 1958, when Gracie retired after triumphs in vaudeville, radio and finally television. She remains a vivid presence late in the play, which depicts Burns' second career as a movie star and toastmaster after her death in 1964.
Director John Tillinger and designer Howard Werner give the play an evocative audiovisual construction. They artfully weave in the telephone, radio broadcasts, photographs of New York's Lower East Side early in the 20th century, film clips and tape from mid-century TV shows.
Yet none of the special effects detracts from Gorshin's haunting performance. Even when seated in a corner, watching a televised skit of Burns and Allen along with the audience, Gorshin radiates Burns' spirit.
Tillinger is toying with history in such moments: The old TV show had a then-avant-garde quality, in which Burns would introduce the show by "watching" Gracie on a monitor. The framing device is multiplied on stage and becomes a picture within a picture within a picture, toward infinity.
The special effects add dramatic vigor to the monodrama, a genre that has come under severe criticism in recent years for the monotony of its formula. Though still eagerly embraced by actors seeking vehicles, only a few are hugely successful: Hal Holbrook in Mark Twain Tonight, Robert Morse as Truman Capote in Tru.
Both were heavily made up to resemble their subjects, whereas Gorshin uses nothing but a thin wig and round-rimmed glasses. Yet he resembles Burns down to the last detail. This is the special talent of the impressionist, who finds the voice and facial or physical expressions to conjure the subject, then lets the audience's imagination fill in the rest. But after our first pleasant shock of recognition, Gorshin's mimicry is forgotten as the actor takes over.
Burns is in a sparsely furnished study that turns out to be limbo, outside the gate to heaven. The entertainer, who died in 1996 at the age of 100, wants in, so he can be reunited with Gracie. But God isn't convinced he's ready yet. Burns must audition for his pass, by retelling his life story.
In order to "perform" for God, Burns asks for special lighting, and the gloomy stage brightens into a showcase. He asks for an audience and — voila — playwright Holmes deftly overcomes the trickiest and most perilous challenge in any celebrity monodrama: how to explain why the character is talking directly to us.
From there, the skillful blend of monologue and multimedia takes us back to New York's throbbing Jewish enclave of the 1890s, to the Birnbaum family's three-room apartment where 12 kids shared the same bathwater. Say Goodnight, Gracie forages across that neighborhood for the next two decades, stopping briefly to meet its other inhabitants, many of whom would also become vaudeville stars.
Nathan Birnbaum would change his name many times to disguise his flops, but the name that eventually stuck was George Burns. He met Gracie, quickly sensed her comic talent, and made himself her second banana. Holmes' writing, and Gorshin's portrayal, make that moment one of the show's many poignant highlights.
The bulk of the play follows their partnership for nearly a half-century, along with Burns' devotion to the relationship for the 32 years he lived on without her. This emotional content fuels the story's metamorphosis from historical biography to heart-plucking drama.
---
Impressionist Gorshin Exquisite in Loving Portrayal of Burns
Christine Dolen (The Miami Herald )
August 25, 2000—Who but Frank Gorshin would have the skill, the courage and the acting chops to take on the still-fresh memory of the man Mel Brooks called "the most focused, economical comedian who ever lived"?
And who but Gorshin could pull it off as brilliantly as he does in Say Goodnight, Gracie, a touchingly funny, dramatic one-man valentine to George Burns and a bygone style of comedy?
Now having its world premiere in the Amaturo Theater at the Broward Center for the Performing Arts, the play by Rupert Holmes is in remarkably good shape for a new script. It has abundant humor, most woven from Burns' own words, as well as history, romance, sweetness and loss. Don't be surprised to find tears welling when Gorshin's Burns gets to the part about the death of his beloved wife and partner, Gracie Allen.
Though Holmes' premise is a little hokey—Burns has just died at the age of 100 and must "audition" for God in order to get into heaven and be reunited with Gracie—the play is otherwise very effective. Of course, even a strong script would be meaningless without a great solo performer to do it justice.
Gorshin, without peer as an impressionist, is so persuasive as Burns that a woman in the opening-night audience murmured, "It's spooky."
And it is. Gorshin's posture, movement, voice, rhythms, look and aura suggest reincarnation more than impersonation. Just as Robert Morse did so vividly playing Truman Capote in Tru, Gorshin becomes his subject.
Like Tom Cruise in Jerry Maguire, he has us at "hello."
Under John Tillinger's subtle direction, Gorshin guides us on a 90-minute recounting of Burns' life, from his hardscrabble boyhood as Nathan Birnbaum on New York's Lower East Side, through his early days in vaudeville, his magical pairing with Gracie, their soaring success in radio and television, and his surprising late-in-life career as a movie star that included a 1975 Oscar-winning performance in The Sunshine Boys.
The "visit" with Burns is enhanced by Howard Werner's multimedia design, which incorporates photos of the very young Burns and Allen, pictures from their radio heyday, short film clips of their comedy routines and a stylish one of the couple dancing with Fred Astaire.
As with nearly all first productions, Say Goodnight, Gracie could use some tinkering and tightening, which Holmes (the playwright and songwriter behind both the Tony Award-winning Mystery of Edwin Drood and "Escape" (The Piña Colada Song) will soon come to Fort Lauderdale to do.
Gorshin, too, needs to get more comfortable with all that dialogue, to hone the words and Burns' rhythm to perfection.
My money's on time-tested material, a fine play and a great actor.
Christine Dolen is the Herald's theater critic.
---
Word of Mouth

Christine Dolen (The Miami Herald )

August 18, 2000—George Burns had two careers.

First he was the world's greatest straight man, spending decades in vaudeville, radio and television as the foil to his deliberately illogical wife, Gracie Allen.

Then he became a brilliant deadpan comedian and actor in his own right, winning an Oscar at age 79 for playing God in 1977's Oh, God!.

Burns had a long run in show biz and in life. It began when he joined an outfit called the Pee Wee Quartet at age 7, and continued for the next 93 years until his death four years ago at the age of 100. And if you believe in such things, Burns is now with Gracie and the Big Guy.

But a quartet of theater professionals—actor Frank Gorshin, Tony Award-winning playwright Rupert Holmes, veteran Broadway director John Tillinger and producer Bill Franzblau—is resurrecting the style, spirit and persona of the man in Say Goodnight, Gracie, a one-man show that will have its world premiere Tuesday at the Broward Center for the Performing Arts after previews this weekend.

The idea for the show came from Franzblau, who decided to launch it in the Broward Center's smaller Amaturo Theater after his happy experience there last season with Robert Dubac's The Male Intellect: an oxymoron?, which he also produced.

WORD OF MOUTH

"A friend called and told me he'd seen a short film with Frank Gorshin as George Burns," Franzblau said. "I spoke to George's son Ronnie to get permission [to do this play], and the only approval that we had to give the estate was that we wouldn't do anything to put George in a bad light.

"I looked at George as everyone's grandfather. I thought it could be a funny but charming love story; I didn't want it to be a stand-up piece with schtick."

For the script, Franzblau turned to Holmes, a talented and versatile friend and a longtime fan of old radio shows, including the ones Burns and Allen did from 1932 to 1950.

A recording artist, producer, songwriter, television series creator, playwright and Broadway veteran, Holmes is still mainly known for his clever 1979 chart-topping hit "Escape" (a.k.a. The Piña Colada Song). But he also has had theatrical success.

His musical The Mystery of Edwin Drood made him the first person to win the Tony for both script and score on the same show. He has also created and written a TV series (Remember WENN, about the Golden Age of radio, for the American Movie Classics network) and produced albums for the likes of Barbra Streisand.

And he has vivid memories of the Burns and Allen television show, which aired from 1950-58.

BETTER THAN BECKETT

"Forget [absurdist playwright] Samuel Beckett," Holmes said. "Even as a kid, I'd watch their show and say, 'This isn't just funny. This is strange.' "

In each episode, Gracie would concoct a scheme, and George would be upstairs watching it on TV. He'd talk to the viewers, breaking that wall down, monitoring his own show.

"It was so surreal," Holmes said. "Then he'd go downstairs and enter the farcical situation, but he'd already know the mechanics of it. This was Monty Python 20 years earlier."

Culling those memories, listening to audio tapes and watching videos, Holmes spent a pleasurable 4 1/2 months creating the script for Say Goodnight, Gracie. He understood the rhythm, the exquisite timing that Burns and Allen had together.

"Because I was a musician, I could hear how they'd play [verbal] ping-pong, slam it back and forth," he says.

He also came to appreciate the fact that his career was only one part of Burns' life: His love for Gracie was the other part.

THE BIG AUDITION

So the conceit Holmes came up with for Say Goodnight, Gracie has Burns auditioning for God in the hopes he can get into heaven and be reunited with his wife. The majority of the script is Burns' own words, which Holmes has tried "to distill, segue and shape . . . It's as if you had the great luck to be in a theater with George Burns in front of you . . . It's pleasant, genteel, warm-hearted.

"I think there's room amongst more acerbic shows for a gentler one."

Franzblau and Holmes chose Gorshin to play Burns, and not just because the talented actor is also an incredible impressionist, though he certainly is that. His impersonations of Kirk Douglas, Burt Lancaster, Jack Nicholson, Anthony Hopkins as Hannibal Lechter and myriad other stars have been part of his television and nightclub acts for years.

It was in Atlantic City that Holmes first saw Gorshin as Burns.

"After his sixth or seventh impression, he turned his back to the audience. He did nothing — didn't pick up a cigar or put on glasses — but when he turned around, I heard four people say, 'That's George Burns.' And he hadn't even spoken yet. It was just the way he was carrying himself," Holmes said.

Gorshin is amazing that way. Even sitting behind the Broward Center having a smoke, chatting in a friendly if minimalist and modest way about his career, Gorshin is startling when he slips, for a few sentences, into Burns.

BEYOND IMITATION

He doesn't seem to be Gorshin doing Burns as much as Gorshin channeling Burns.

And yet that uncanny ability is just part of what's needed to make Say Goodnight, Gracie work, said director Tillinger.

"How alike George he is is really shattering," Tillinger said. "But at times he has to forget about how to be George and just tell the story. It's 90 minutes of dialogue without a break, except for some clips, so there's a huge learning process.

"He's had lots of good ideas about the script and the progression of the play. This Broward production will teach us a lot. It's a trial by fire to learn what works and what doesn't."

Pulling people into George Burns' world, Gorshin said, has to happen quickly.

"The initial moments have to set it," he said. "If it's done right, it will carry through the play. You say that first line and you know there's no turning back.

"I find myself waiting for Gracie to say something, then I realize I have to do it."

JUMPING HEAD FIRST

Gorshin, a man with penetrating blue eyes, dons a hairpiece and glasses and clutches the predictable cigar to become Burns on stage. But to create the character he didn't spend hours watching film and video, reading Burns' books or listening to audio — though he has all that material at his disposal.

He just got a flavor of the man and jumped into the script, wanting to prove that "I could do a one-man show."

He recorded the entire play and then listened to it over and over again, rehearsing for three weeks and wishing he had three more.

If it works, he'll tour the show, and probably wind up with a limited run on Broadway. And maybe, like Burns, his career will get a second wind.

At least that's the way the self-effacing Gorshin sees it.

"I'd like to do my nightclub act again," he says. "I've cooled off. My name isn't big box office anymore."

Christine Dolen is the Herald's theater critic.
---
One-Man Burns Show Manages to Create a Three-Way Dialogue
Tony Brown (Cleveland Plain Dealer)
March 23, 2001—Say Goodnight Gracie, which opened a three-week run last night at the Little Theatre in Cleveland Music Hall, stars the one guy on the planet you could count on to play a convincing George Burns: Frank Gorshin.
That's right, The Riddler. And one of the most talented impressionists of the last 50 years.
But Gorshin imitating Burns is not all there is to Say Goodnight Gracie, which, with a little work here and there, could easily be the Broadway show its producers hope it will soon be.
The script was written by Rupert Holmes, author of the Broadway musical The Mystery of Edwin Drood. Holmes has slyly written a play about Burns that isn't really about Burns, at least for the most part. It's about Burns' love for his wife and comic partner, the inimitably nutsy Gracie Allen.
And director John Tillinger, a Broadway veteran, won't let Gorshin sit back and draw on an impressionist's bag of caricature tricks. Tillinger makes his star act.
The best one-actor shows - The Belle of Amherst (Emily Dickinson), Tru (Truman Capote), Barrymore (John) are not monologues but dialogues between actor and audience.
But Say Goodnight Gracie goes one better. It's a three-way conversation: actor, audience and Gracie, represented in film and TV clips and via re-creations of radio broadcasts (the voice is that of actress Didi Conn).
Many know Burns only in his second career. It was launched by the movie version of the 1975 The Sunshine Boys, for which the actor earned, at age 80, an Academy Award.
In his first career, he and Allen, along with Jack Benny, the Marx Brothers and a few others from the late Vaudeville-early radio, film and TV days, practically invented 20th century American humor. In the play, Burns calls it "illogical logic," and it was brilliant.
Allen retired in 1958, walking away from fame. She died six years later, leaving Burns on his own until he died in 1996 at age 100.
The imitation part of Gorshin's performance is a precise but relatively simple collection of nuances - not just holding a cigar, but holding it with two fingers and the thumb, just so, the mouth in a barely contained smile, the eyes narrowed mischievously, the eyebrows slightly raised.
But when he and the material are at their best, he does more. He portrays a man, an everyman, who is very much in love, who is hurt when his love is not immediately returned, who is devastated when his lover leaves him.
When it is at its best (which is to say, when George and Gracie are making us laugh), we in the audience never want to say goodnight to Say Goodnight Gracie.
---
Review by Linda Dawson


Remember WENN newsgroup

April 23, 2001—I saw Say Goodnight Gracie on its next to last night in Cleveland. A crowd made up mostly of older patrons filled the lower level of the Little Theatre at Music Hall.

It's part of the Convention Center complex and that includes Public Hall. The Little Theatre is a faded relic of glory days past, lots of gilt and heavy plaster decorations. I'm sure it dates back to the heydays of George Burns and Gracie Allen.

Our seats were in the third row. They were stage left, at times we could smell the smoke from the cigar that "Burns" smoked. The curtains were open and the set exposed. It had a wing chair, on an adjoining table sat an old fashioned telephone and the classic old time radio. I was immediately reminded of Rupert Holmes and his ties to radio. Of course, Remember WENN is the greatest proof of that.

Stage right, a small wooden table like you'd see in a restaurant and two chairs sat. Center stage, a small garden bench and a couple of projection screens. Towards the back there was some set up with a more modern phone that had flashing lights. I couldn't see it well.

Frank Gorshin made his entrance from stage right. Immediately, you could see George Burns in his walk. He wore the trademark glasses. The make up didn't seem to completely mask Frank Gorshin. But once he began to speak he became George Burns and I'll refer to him in character.

As the one-act, one-man show opens, George Burns is trying to figure out his location. It turns out that he has died and is in a waiting room for Heaven. The modern phone jangles with light and sound.

Burns picks it up and finds himself talking to God. It's a mutual admiration society. It seems God enjoyed having George Burns play "Him" in the movies. Burns thought God was his own best advertisement.

Still, Burns needs to give an accounting of his life and accomplishments to see if he deserves entry to Heaven. And Heaven means a chance to be reunited with Gracie Allen, the love of his life.

So George Burns puts on one final performance, the performance of his life.

He starts his story by telling us he was born Nathan Birnbaum in New York City. He came from a large Jewish family, his father died when "Natty" was young. He had to help keep food on the table and went to work as a young boy.

He worked in a candy store but managed to make it a jumping off point for his love of song, dance and making people smile. As Burns tells some familiar stories about his early days we're transported there with the help of pictures flashed on the screens at the rear of the stage.

Frank Gorshin has George Burns' voice down perfectly. You are drawn into the vocal patter and he occasionally breaks into a Burns' trademark song, "Down in the garden, where the green grass grows..." Rupert Holmes, as always(,) writes witty dialog in this case, mostly monologue that respects the material and the audience.

It's rapid fire and you need to pay attention. There were times when some of the pay off lines were lost. Not sure if it was the direction of the actor or Gorshin's voice. It was distracting and unfortunate, I didn't want to miss a word or moment.

There is more animation on stage when Burns begins to talk about Gracie Allen. Her entrance into his life was the most significant event for him personally and professionally. It starts as a chance encounter when he is looking for a new partner.

Eventually Birnbaum, now George Burns convinces her to work with him in vaudeville. The act is supposed to have him getting the laughs and she will be window dressing.

It's bombing until Gracie alters her on-stage delivery of one of her straight lines. It proves to George that she is not just a pretty face, she's an actress. Burns is smart enough and secure enough and hungry enough to switch roles and become the straight man. It's easy to put his ego aside to ensure the act's survival. It also cements his professional relationship with Gracie Allen.

At this point, we finally see George Burns with a familiar prop, a cigar. He says he started to use it as a prop so he'd have something to do since Gracie became the focal point of the act.

More photos of the team supplement his words. Now we get to "hear" from Gracie Allen via the voice of actress Didi Conn. This is another weak spot. She doesn't sound enough like Allen especially when we are treated to audio and video clips of the real thing.

Burns moves between standing center stage and wooden table and chairs. We learn he had to fight for the heart of the Irish Catholic Allen. She almost married a nice Catholic boy who turned out to be unreliable. Burns had help winning her heart from his new best friend, Jack Benny and Benny's wife, Mary.

We get a true sense of how things went while listening to Burns one-side conversations. If Rupert weren't so strong a story teller, it wouldn't work. But the one side of the conversations is strong enough to help you fill in the blanks. It works beautifully and we don't miss hearing other people, our imagination is companion enough.

Burns shares that he and Allen were lovers before they married. He talked nonsense on that first night as they drifted off to sleep saying, "Googie, googie, googie...". It made her laugh and from then on it was his pet name for her. She called him Natty.

The act became a success. It was something different. The pair were married in Cleveland while performing at the Palace Theatre. The marriage was a success too. Allen's poor health meant no pregnancies, but the couple adopted a son and daughter. We are treated to more family pictures.

By now, Burns has moved to the wing chair on the stage. He introduces radio clips, then movie clips, then TV clips. Each time we get a little taste of the events that led up to those moves.

The clips fit in seamlessly and are priceless. They mean as much to Burns as they do to us. You can see him savoring the chance for one more laugh as much as we do.

Yes, the clips and bits are still funny. Rupert is wise enough to let the material take center stage. Rupert like Burns isn't afraid to take chances. When Burns describes innovations that the team tried we get a catch phrase, "They called it innovative, I thought it was funny." It was both, innovative and funny.

Burns and Allen were a success. But Gracie was tired of success, she wanted to be a wife and mother. Burns agrees but admits it was scary for him. Still, he would do anything for Gracie. He even tells about a mistake that reminded him how precious she was, Burns had a short affair and his regret was obvious.

Even though you know the facts it still comes a shock when we learn of Gracie Allen's death. Her heart was always weak and eventually gave out. Your heart breaks as you see that his heart is broken. Burns eases part of his pain by visiting her grave site weekly at the cemetery. The garden bench now becomes a central prop as he shares those conversations with her with us.

His career is reborn out of another personal tragedy. When Jack Benny is too ill to star in the movie The Sunshine Boys, he recommends George Burns. It leads Burns to an Oscar and a whole new generation of fans. There are more movie roles, books and live performances.

Professionally, the years are kind to Burns and his new wave of popularity leads to a bold move. He signs a deal to perform in Las Vegas on his 100th birthday. Burns lives to see that milestone but a fall prevents that performance. And a few months later Burns dies.

When that happens on stage, we're buffeted with all the video images going in reverse. I thought it was intrusive, gimmicky and unnecessary. We know what's happening without that.

The swirling stops and we're waiting again with Burns. There is tension as the waiting continues. The Heavenly hot line rings again and George Burns speaks to God again. He's in! And Gracie is waiting for him. For the second time that night, I'm moved to tears.

Gorshin takes bows in front an appreciative audience. He does a good job and it's an arduous role. He's on stage for nearly 1 1/2 hours all alone. I'd see it again and I hope it tours so you can see it.

Will it work in New York City? I'm not sure. I think it would only work in a smaller theatre. People on this list know who George Burns is, how wide is his general appeal since he's been dead for 5 years?

But as usual, Rupert's creative genius gave me another memorable evening.
---
Top-Notch Actor Resurrects Comedy Legend
Christine Dolen (The Miami Herald )
April 30, 2001— News stories tell you that George Burns, comedian and late-in-life Oscar-winner, passed away in 1996 at the age of 100.
Technically, that's true. But theater has a remarkable power to revisit, revive, even resurrect a personality. If you catch Frank Gorshin's masterful performance as Burns in Say Goodnight, Gracie at the Coconut Grove Playhouse, you'll swear that Burns — like Elvis? — has just been in hiding.
Gorshin, who won the 2000 Carbonell Award as best actor in a road show for his performance in the world premiere of Gracie at the Broward Center for the Performing Arts last August, is an utterly persuasive Burns. Which shouldn't come as a surprise, given Gorshin's long career as a master impressionist.
But his portrayal of Burns cuts far deeper than the superficial manifestations of Burns' appearance — his toupee, round glasses, trademark cigar — or even Gorshin's remarkable evocation of Burns' gravelly voice and vocal rhythms.
Gorshin re-creates a heretofore inimitable comedy great by acting, acting so persuasive that you could believe the performer is somehow channeling Burns. His movement, his "throwaway" asides, his singing self-interruptions are all pure Burns.
Yes, they were scripted by this play's Tony Award-winning author, Rupert Holmes. But Gorshin-as-Burns makes them live so completely that you feel as though you've had the pleasure of spending 90 minutes listening to a legend reminisce.
LOVE STORY, TOO
Interweaving strains of biography, love story and showbiz lore, Holmes has culled a huge body of material to fashion a one-man show that is both enlightening and entertaining. His conceit is that a newly deceased Burns must "audition" for God in order to be reunited in the hereafter with his former partner, wife and true love, Gracie Allen.
Yes, its a little hokey. But given that Burns himself played the Divine One in three movies, the framework succeeds.
Though the piece is effectively augmented by Howard Werner's projected photos and film of Burns and Allen, and the recorded voice of actress Didi Conn as Gracie gives Gorshin scattered chances for interaction, it is on Gorshin's deliberately stooped shoulders that Say Goodnight, Gracie rests. Guided by John Tillinger's unobtrusive direction, the star is more than up to bearing the burden.
RADIO DAYS
For older audience members, the show becomes a delightful evocation of entertainment styles gone by — vaudeville, personality-driven radio shows, Hollywood's short films, the innovative black-and-white Burns and Allen television show that aired from 1950-58. Younger theatergoers can savor the calculatedly scatterbrained art of Allen, who died in 1964, as well as the almost musical rhythms of one of the great comedy teams.
Burns' great friend, comedian Jack Benny, is also an enhancing presence via Werner's video design and Gorshin-Burns' warm recollections.
LOOKING AHEAD
It's a treat to have Gorshin and Gracie back in South Florida, where the show's journey began.
If the play's producers have any sense, Say Goodnight, Gracie will say hello to Broadway sooner rather than later.
---
Gorshin is Better Than Ever as Burns

Bill Hirschman (Sun-Sentinel)

May 1, 2001—Frank Gorshin does not channel George Burns in the retooled one-man biographical show Say Goodnight, Gracie.

The actor is an impressionist, and that's what he gives you — an impression. Yes, he is somewhat similar in appearance with the round-rimmed glasses and turtleneck sweater; he has mastered mannerisms with the ubiquitous stogie, and he mimics Burns' well-traveled, well-graveled voice.

But the 100-year-old comedian is resurrected on the stage of the Coconut Grove Playhouse because, as Burns says of his wife's genius, delivery is everything.

In a film clip projected on the back wall, Gracie Allen is asked why she was under the bed with a book.

"Someone told me to read Jekyll and Hyde," she says with earnest seriousness.

That joke wouldn't amuse today's average sixth-grader. But the members of a sophisticated audience in 2001 found themselves roaring at it and scores of other gags lifted straight from vaudeville.

Because, like Gracie, it's Gorshin's expert delivery that elicits reactions that exhaust the thesaurus of synonyms for laughter: chuckles, guffaws, giggles and chortles.

The show opens in limbo, where Burns is auditioning for God's permission to enter heaven. Once that clunky setup is out of the way, Gorshin/Burns launches a rib-tickling 90-minute stand-up act tracing his life, encompassing its humor and some occasional tragedies.

From slum poverty, Nathan Birnbaum struggles in comedy teams until he turns 30 and meets Gracie, who gets more laughs with her straight lines than George does with his punch lines.

Burns is always self-effacing, giving all the credit to Gracie — glossing over the fact that he put the words in her mouth.

"I learned

early on that I had a great, great talent — and I married her," he says.

Gracie's skill was in portraying a dizzy dame who treated the most nonsensical statements as normal; Burns' straight man was textbook perfection, as were his near-deadpan slow burns.

Gracie is literally the love of his life, although he admits being unfaithful once. This show, like Burns' written memoirs, is a valentine to her skill as he charts their success in radio, movies and television.

Gorshin perfectly captures Burns' dry stand-up style of storytelling that prefigures a dozen modern comedians including David Letterman. Reprising last year's Carbonell-winning performance at the Broward Center world premiere, he now has enough familiarity and confidence with the material to let it breathe.

Gorshin's performance under John Tillinger's invisible direction tends to overshadow the accomplishment of playwright Rupert Holmes, who deftly culled and ordered material from Burns' memoirs. He has tinkered with the script this round, most notably with a photo-montage finale that provides a more satisfyingly theatrical coda.
      <—- Return to News From the "Holmes Front"