TV Plays Back Happy Radio Days
Songsmith Rupert Holmes tunes in to a bygone era with Remember WENN
by Ileane Rudolph, from TV Guide, July 1, 1996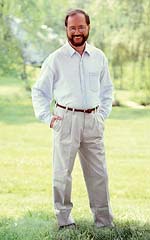 Do you like Piña Coladas? Even if you prefer lemonade, that question probably has you singing "The Piña Colada Song," a 1979 No. 1 hit by Rupert Holmes. The composer knows he'll always be recalled for writing and singing the ditty, but he's had many successes since, including writing the 1986 Tony-winning musical The Mystery of Edwin Drood. Today, however, he's living in the past — as the writer and creator of Remember WENN (Saturdays, 9 P.M./ET), which debuted in January on the vintage-film channel American Movie Classics.
WENN is a low-rent radio station in 1939 Pittsburgh staffed by vain actors, ambitious producers, and quarreling lovers. The cast isn't famous, but stars such as Patti LuPone and Molly Ringwald pop in for guest spots. "The show evokes an America of the imagination that we all think fondly of," says Holmes. "We see it in the paintings of Norman Rockwell and in that golden time of broadcasting."
Holmes has collected 3,000 of those old radio shows. "I've always been entranced with radio," he explains. "It invited the audience to create along with the actors and writers. They left out the images. Music videos supply images and rob us of our imagination."
Holmes' imagination is working overtime; he's written 12 of the first 13 episodes of WENN (another 13 have been ordered), as well as the original music. He's also working on a Broadway musical of the Oscar Wilde book The Picture of Dorian Gray and has development deals for Bette Midler and Reba McEntire musicals.
But he remains best-known for that song about the rum cocktail. Holmes is philosophical: "Every songwriter lives to have at least one song that a cab driver who asks 'You write anything I know?' will recognize," he says. "If I were still touring with that song, my teeth might clench at its mention…but I've done a lot since then."
Back to WENN Articles Page
---