Remember WENN at Forefront of the New 1940s Revolution
Writing sets series apart from modern sitcoms
by Rick Mortensen, Deseret News staff writer
photo by Tom Smart of the Deseret News
July 12, 1998—Like a Ted Williams home run, pop culture's nostalgia-makers are going, back, back — way back, to a time before their target audience was even born. Swing dancing, '40s clothes and the revival of classic musicals on Broadway herald the new age in looking back.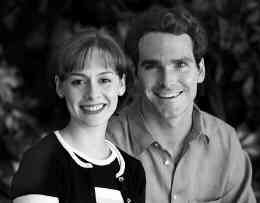 And the series Remember WENN, now in its fourth season, stands at the front line of the new '40s revolution.
The series is written for the American Movie Classics basic-cable channel by composer and playwright Rupert Holmes, who also gave us the '70s hit "The Pina Colada Song" as well as the book, music and lyrics to The Mystery of Edwin Drood, for which he won triple Tonys.
Remember WENN follows the harried adventures of the actors, technicians and writers at radio-station WENN during the 1940s. And it gives Holmes a chance to write songs and incidental music reminiscent of the period — especially in the upcoming episode "The Follies of WENN," in which the entire cast sings and dances.
According to actor Hugh O'Gorman, who plays the radio station's romantic lead, Holmes' writing is what sets this series apart from modern sitcoms.
"Rupert's style of writing is not gag-oriented, and we're not going for the big punchline," said O'Gorman, who was in Utah recently to host a swing-dance with his Remember WENN co-star Amanda Naughton. "We don't have a live audience or a laugh track like some of the other shows do. The lines are funny, but we just have to trust that the people watching at home are laughing."
With double-entendres, physical comedy and rapid-fire puns and tongue-twisters, a lot of the humor in Remember WENN depends on the actors' timing and delivery.
"Everyone in the cast has been through major theater training programs," said O'Gorman, who has an MFA from the University of Washington. "The kind of stuff you do in classic theater lends itself to this kind of material."
However, classic theater cannot prepare an actor for the 14-hour work days and multiple takes — or the utlimate lack of control that come with TV. Remember WENN has an added challenge for stage actors because the scenes are shot like a feature film — out of sequence.
"When I'm on stage, it's like I'm a sprinter," Naughton said. "I only need to really concentrate for about three hours a night. In television or in film, you've got to take care of yourself all day. So in a lot of ways it's like being a long-distance runner."
O'Gorman agrees. "Stage is the actor's medium. It's a cathartic experience you go through from beginning to end each night. You mentally prepare, a lot like preparing for a game, and you perform for two hours; then it's over.
"Although I enjoy TV and film, it's like acting in vignettes."
Both actors also enjoy the control an actor has on stage as opposed to film. "Once the curtain goes up, the director's not there anymore and it's all the actors," said O'Gorman. "In film and TV, we're always at the mercy of the directors and their vision and also the editors and all the people who are putting this collage together. We're an important part of this collage, but it's ...
"You're really in charge of yourself on stage," interjected Naughton. "When the director's gone, you're responsible for carrying the play. Working in film is more, like he said, a collage. and a collaborative thing to do. It's sort of weird that you could think your timing is just fabulous and know that it could all change in the editing process."
Naughton and O'Gorman, who often finish each other's sentences, actually met 11 years ago in Ithaca, N.Y., doing the Brecht/Veill musical The Three-Penny Opera.
Both also have connections to theater in Salt Lake City. A few years ago, O'Gorman was cast in Pioneer Theater Company's Taming of the Shrew — but when AMC picked up the "WENN" seres, he had to quit the cast. Naughton came to the Capitol Theater that same year with the touring production of The Secret Garden.
Remember WENN is starting to make waves. It won an Emmy for best costumes and was nominated for a Screen Actor's Guild award in the category of "best ensemble." And its dedicated fans have heated discussions on the Internet about everything from possible on-screen romances to the changes in makeup by Naughton's character.
Back to WENN Articles Page
---