Remember WENN: AMC, Fridays, 10 PM/ET
by Matt Roush (TV Guide), June 13, 1998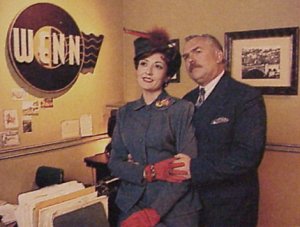 Although in recent years its vintage film catalog has been upstaged by the vast library of Turner Classic Movies, cable's pioneering American Movie Classics channel still offers at least one small gem no competitor can lay claim to: the sweet, smart '40s-era ensemble comedy Remember WENN, now entering its fourth season with an abundance of disarming charm.
Unabashedly corny yet at times surprisingly clever, thanks to the nimble wordplay of Rupert Holmes (who, much like David E. Kelley of Ally McBeal and The Practice, writes every episode), WENN is a refreshing tonic of farcial gentility in these coarse times. Its modest succes is a contrast to the fate of similar nostalgia-fests at the networks, which rarely bestow such nurturing patience. Remember I'll Fly Away, Brooklyn Bridge, and (a personal favorite) Homefront? All long gone, all too soon.
WENN is far from exhausting the possibilities of its fetching premise, following the hectic workings of a low-budget Pittsburgh radio station as actors and writers struggle to keep live programming on the air despite personal intrigues that rival the hokey melodramas they perform. Last season, with war brewing in Europe, the station became embroiled in improbable subplots involving international espionage.
The cliff-hanger, amusingly resolved this week, reintroduced station manager Victor Comstock (John Bedford Lloyd), presumed dead while working as a double agent broadcasting Nazi propaganda. Now programmed to kill—triggered by the phrase "Buy barley futures" (don't ask)—he will be defused only to suffer a bout of amnesia that throws the on-air operation into turmoil.
When the dust thankfully settles from that foolishness, WENN returns in future weeks to a more purely enjoyable routine, showing off an impressive ensemble of 11 regular characters, each as broadly defined as they are well played.
Key among the scene-stealers: Melinda Mullins as Hilary Booth, a tarnished Tallulah of a Broadway diva who lords her spotty résumé over her long-suffering colleagues. Lately she's been relishing the offstage role of scorned spouse, making life miserable for her estranged ex, Jeff (Hugh O'Gorman). Other standouts include Christopher Murney as man-of-all-voices Mackie Bloom, Tom Beckett as silent sound-effects whiz Mr. Foley, and Amanda Naughton as wholesome Betty Roberts, torn betwen the virtuous Victor and reformed cad Scott Sherwood (Kevin O'Rourke).
In all, a solid crew. They especially shine in the July 10 episode, a frantic caper in which they try to break the world's record for a marathon broadcast, groggy and sleep-deprived (or depraved?) over 54 hours. Cheers' John Ratzenberger guests as a shady timekeeper.
When she hears of the stunt, Hilary announces, "All for one and one for all, and I for one am all for it." Which pretty well sums up the infectious, unpretentious spirit of this scintillating sleeper.
Back to WENN Articles Page
---