On the set of AMC's Remember WENN
by Len P. Feldman
Nov. 14, 1996—You wouldn't know it from the outside, but the door of Broadway Stages Warehouse in Queens, NY is really a portal to a simpler time, when a hamburger cost about half a buck, rapping was something you did on a window pane and safe sex meant having it indoors. This is where the Emmy-winning AMC show Remember WENN, about the cast and crew of a late-1930's radio station, is shot. This wonderfully nostalgic half-hour show about the golden age of radio begins its second season on November 16th (9 p.m. EST).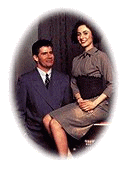 One of the time-altering aspects you notice straight away is the period clothing worn by the cast members on their way to rehearsal. These are not re-fabrications, but authentic 1930's clothing modified by costumer Carolyn Grifel who won an Emmy for her work on the series. "The budget for this show is about a quarter of your average series," explains Grifel. "About a couple of thousand dollars per episode. That's very little for a period show, so we have to be very resourceful. I do a lot of shopping in remote areas and flea markets where I can get better prices for vintage clothing."
Emerging from wardrobe in a vintage smoking jacket and ascot is guest star and veteran character actor Roddy McDowall. When asked why he's here today, he gazes about asking in rhetorical amazement, "What am I doing here?"
"Somebody left the door unlocked and he wandered in," quips Amanda Naughton, who plays radio writer Betty Roberts on the show.
"And I won't leave," counters McDowall without missing a beat. McDowall has been a Remember WENN fan since its inception. "I just think it's terrific. The writing is so good," he says. "And the actors are so good. If you admire a show so much and you get to be on it, that's great fun."
"We spend an enormous amount of time on the scripts," says producer/director Howard Meltzer, who is also script editor for the show. Many of the scripts are written by the show's creator, multiple Tony-award winner Rupert Holmes.
Unlike many sets which are built in separate components on different stages, the WENN station is built in real-life proportions as you see it on the screen. "I needed everything to be attached," explains Meltzer "[I wanted] the ability to carry people around from room to room and link everything visually."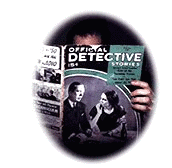 As we walked through the set, there was a feeling of being in another place and time. "You actually forget where you are. You think you're in a radio station," comments Meltzer.
Great pains have been taken to see that the set of Remember WENN is accurate to the period which it depicts, from the vintage furniture and 1930's radio equipment to the color scheme of the set itself. The walls of the set are painted in rich hues reminiscent of Technicolor films. Additionally, the series is shot on film which is manipulated "to get the appearance of Technicolor, which predominated the look of films of that time," explains Meltzer.
Fans of the show are sticklers for this kind of detail. "We're always getting calls correcting us," says Meltzer. "In one episode, we had a telephone with the curly cord and we got calls saying, 'That's wrong. they didn't have those till ten years later.'"
The man responsible for all the bits of nostalgia on the set is prop master Mark Harrington. He obtains everything from period-piece cigarette machines to the 1939 issue of Detective magazine in the station lounge.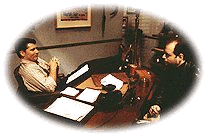 Down the hall and to the left of the lounge is the office of WENN station manager Scott Sherwood, played by actor Kevin O'Rourke, who is sitting in his character's office learning his lines. "Right now we're doing a scene where I'm trying to talk (radio actor) Jeff Singer into running for city council."
Hugh O'Gorman, who plays Jeff Singer, walks onto the set to rehearse the scene with O'Rourke and Melinda Mullins, who plays Singer's actor/wife on the show. O'Gorman and Mullins share a natural chemistry that translates into the lovingly antagonistic relationship of their characters. "That's rare ...when you find someone that you play so naturally with," says O'Gorman who also has a recurring role as a U.S. attorney on the NBC drama Law & Order.
The director decides to go for a take. A bell rings twice, demanding quiet on the set. O'Gorman, Mullins and O'Rourke stand on their marks outside Scott Sherwood's office. "Action," shouts the director. The actors play the scene through as though it was second nature. "Cut and print." The season finale is in the can and Remember WENN is ready to once again take to the air waves.
(Special thanks goes out to actor C. J. Byrnes who plays C. J. the radio engineer on the show, and who acted as our liaison throughout our visit.)
Photo of Melinda Mullins courtesy of AMC; photo of Kevin O'Rourke and Amanda Naughton by Craig Blankenhorn; photo of Detective magazine by John Pomponio; photo of Kevin O'Rourke and Len P. Feldman by John Pomponio
Back to WENN Articles Page
---