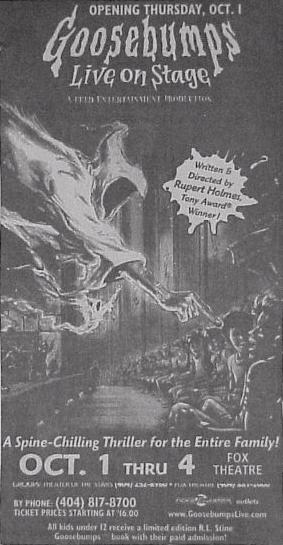 Also:  Stage Fright! Theatrical Thriller Premiering at
            Fox Follows Formula of Stine's Goosebumps
         Holmes Out to Give Families a Good Scare in
            Goosebumps
         Success Gives Holmes Goosebumps
         Things That Go Bump on Stage
---
Kids Read It, Watched It; Now They Shiver to Goosebumps - Live On Stage!
??? author credit (Pensacola News-Journal)
September 19, 1998—Your kids read the books, watched the television series and now they can shiver in person to Goosebumps - Live On Stage!
The production, based on the best-selling Goosebumps book series by R.L. Stine, was set for its world premiere Friday night at Pensacola's Saenger Theater with additional performances through Sunday before moving on to other cities.
The stage production tries to walk a fine line of being scary enough to keep children engrossed without inducing nightmares while appealing as well to their parents.
"We use a lot of humor," said writer-director Rupert Holmes, a double Tony Award winner for best book and score for The Mystery of Edwin Drood.
"There is a lot of shiver, and a couple of bumps, but it is not violence-based," Holmes said. "As the people are screaming, they are also usually laughing."
The shivers and bumps come from eerie music, dry ice, some wild monster costumes and new stories written by Holmes "in the spirit, and with some of the spirits, of the books."
"It's not children's theater," said musical writer and co-producer Jonathan Brielle, who wrote the score for the Tony Award-winning show Foxfire.
"Even kids who are 15, who grew up on the books, can now come and enjoy the humor," Brielle said. "It's never written down to the audience; it's always written up."
Pensacola, a medium-size city in the Florida Panhandle, was chosen for the Goosebumps premiere because of recent upgrades in the city-owned Saenger's stage equipment and the nature of the community.
"Families, sort of suburbs as well as city, and a lot of people who have seen Broadway and Broadway-quality productions," Holmes said, are what he was looking for. "We'll base a lot of what we do in the show on what the Pensacola audiences react to."
Paul Benedict, best known for his roles in The Jeffersons, Spinal Tap, and Waiting for Guffman, plays a mysterious mad scientist [sic]. Three Pensacola children, Clayton Stocker, 8; Amanda Ninivaggi, 11; and Mark Schindler, 12, play younger characters featured in the show.
Clayton said he wasn't afraid of being in such a scary show.
"I only really get scared of aliens," he said.
     Back to WENN Lagniappe Page
---
Stage Fright! Theatrical Thriller Premiering at Fox Follows Formula of Stine's Goosebumps
Jill Vejnoska (Atlanta Journal-Constitution)
September 29, 1998—His name is Slappy. He's a dummy. An evil dummy, in fact, but that's not what strikes fear nightly in Rupert Holmes' heart.
It's Slappy's sudden growth spurt that does it. The one that sees him more than double in size, to a height of about 14 feet, his 20-pound head and 10-pound (each) hands somehow supported by a stilt-walking circus clown inside the costume.
"I hold my breath every night at that moment," confesses Holmes, the writer and director of Goosebumps Live on Stage, which has its world premiere Thursday at the Fox Theatre. "It's a wonderful moment, but to pull it off successfully —- I don't think anybody understands how difficult it is."
He is still talking about Slappy, right? After all, what Holmes and company are attempting to do here —- pumping more air into the already monster-size franchise of Goosebumps kids books —- is fraught with as much peril as possibility.
As caretakers of the best-selling children's book series of all time (vanquishing, among others, Nancy Drew and the not so Hardy Boys), the Goosebumps producers know their efforts will be closely scrutinized by the millions of mostly 7- to 13-year-olds (and their parents) who snatch up each new title (such as "Say Cheese and Die") as soon as it rolls off the presses —- two every month.
Nor is it just young readers whose expectations they're trying to meet. It's young theatergoers, many of whom will be getting their first exposure to a play, performed live and without benefit of special effects screaming across a 70mm screen at the local multiplex.
Yet if they pull it off, the Goosebumps team says, they won't just fill up theaters. They'll change theater as we know it.
"Our objective is to create a whole new genre of theater," explained co- producer Kenneth Feld. "We think that this is the first stage play that's been created for families. There have been musicals, like Annie. But this is new."
To be sure, this is also a little hype. Maybe that's to be expected from a man who, if he's not P.T. Barnum reincarnated, at least lives in his old neighborhood. Along with other big "arena" shows (Disney on Ice), Feld Entertainment also produces the Ringling Brothers and Barnum & Bailey Circus.
But you must really have to believe in something to undertake a major commitment such as Goosebumps Live on Stage represents. The $6 million production is scheduled to tour the country for nearly two years, starting in Atlanta and charging $16 to $36 for tickets at a time when such Broadway "family" shows as The Lion King and Beauty and the Beast demand up to $75.
"You can get really sucked into the romance, the 'We gotta play New York' mentality," said Goosebumps co-producer John Brielle, who says the show needs "time and nourishment" now and will make it to New York at some point. "Financially, too, we're creating a new genre. If you have a $65 ticket, Mom and Dad might have to leave some of the kids at home."
If there's anything the American public doesn't need to be sold on, it seems, it's Goosebumps. The franchise began growing to Slappyesque proportions almost from the moment in 1992 that New York writer R.L. Stine introduced his kid-pleasing formula of funny, scary storytelling in Welcome to Dead House. Sixty-one more books followed, featuring such titles as Revenge of the Lawn Gnomes with cliffhangers at the end of each chapter; more recently, Stine (who writes 20 pages a day, six days a week) has introduced Goosebumps Series 2000 for young teens as well as the Give Yourself Goosebumps and Goosebumps Presents series.
There's a Goosebumps TV series. Goosebumps videos. Even, God help us, Goosebumps interactive sound T-shirts. So why not Goosebumps Live on Stage?
"I thought it was a great idea," Stine, whom Feld first approached about a year ago, said recently by phone from New York. "I told Rupert, 'Make 'em scream! Make 'em scream and make 'em laugh!'"
If only it were that simple. Stine may have been enthusiastic about the idea, but he had neither the theater experience nor the time to write the play. And it was going to be a real play —- though Feld admits they could have taken an easier route.
"We could have done this as a 'head' show," Feld said, referring to shows that feature singing and dancing costumed versions of popular children's characters. "But (Goosebumps) is a story about storytelling, and we felt that that could only be accomplished in the theater." To write it, they found Holmes, the Tony Award-winning playwright (The Mystery of Edwin Drood), pop musician ("The Pina Colada Song") and creator of the Cable ACE-nominated TV series Remember WENN.
Old-time radio fans who share a similar sense of humor, Holmes and Stine hit it off and quickly agreed that Goosebumps Live on Stage would consist of three original stories. "We've done all the books for TV," Stine said. "We had to give the kids something new." The stories would be linked by a recurring element and, perhaps more important, by what Holmes calls the distinctive "Goosebumps dynamics."
"In the Goosebumps world, kids solve their own problems," explained Holmes, who read about 40 of the books before writing a script. "Kids are afraid, but they're never victims. They're scared, but they're never paralyzed by fear."
Goosebumps Live on Stage is the saga of the three Barton siblings and friend Skate, who are stranded in an unfamiliar neighborhood after a school basketball game. Looking for a phone, they enter the Doomsday Bookshop, where old Mr. Gander tells them stories out of a dusty old book called Goosebumps.
The kids end up in the stories, dealing with everything from power-hungry lizards masquerading as human beings, to spooks haunting an old theater and, of course, that evil dummy who traps them in "Slappy's Fun House." In a two- hour show, there are as many jokes as scares, and —- parents, take note —- not all the witticisms are aimed at the youngsters.
"I thought, as a parent, I would love to write a children's show that I would enjoy sitting through as well," said Holmes, whose sons are 11 and 9.
From the first scene change, when the slightly shabby front of Doomsday Bookshop unfolds to reveal an oddity-crammed interior extending the full height and width of the stage, the audience experiences the transporting power of live theater. Two children climb a staircase as it moves across the stage, and, suddenly, a new scene and setting emerges; a character is completely recostumed by dashing through a "changing box"; an actor playing a stagehand moves props; and who, exactly, is inside that gigantic Slappy outfit?
"I'm trying to show kids that there is a world just as exciting and sometimes more involving than motion pictures or TV, called theater," Holmes said. "And that theater isn't simply the next best thing to big movies. There are things theater can do to you that nothing else can. It's like magic."
Maybe so, but it's also like a lot of hard work. Practice makes perfect. Two weeks before the Atlanta premiere of Goosebumps Live on Stage, it's dress rehearsal night at the Saenger Theatre in Pensacola, Fla. While 150 folks fill the front rows of seats, much of the theater is taken up by sound boards and lighting control panels, by technicians who talk quietly into headsets or stare intently at computer screens. A half-dozen video cameras record every second and angle of the performance, miles of film that later will be edited into 30-second clips for TV.
It's the first run-through before an audience and with all the scenery, costumes and props in place. A switchblade phone that requires exquisite timing to operate in the bookshop scene has only arrived that day. Two days earlier, Caitlin Reilly, a Ringling Brothers clown, had come onstage in the gigantic Slappy costume for the first time.
Back in New York, where the cast rehearsed 10 hours a day before moving to Pensacola, Reilly, 26, had spent about two weeks learning to walk as Slappy. Reilly already knew how to walk on the 4-foot stilts. It was the rest of the extremely top-heavy 60-pound costume that took getting used to.
Casting the show had taken about two months as Holmes and the producers searched for actors who could do everything from walk on stilts to straddle a fine line —- being totally believable as kids, yet also having the necessary skills to play thriller and farce.
The results are a bit unusual: The 20ish actor portraying young Josh Barton also serves as legal guardian on tour to the 17-year-old actor playing his best friend. One of two girls sharing the role of the littlest Barton, 13-year-old Jaime Lynn Keller, is traveling with her aunt Holly and a teddy bear wearing a "My Heart Will Go On" key chain.
"At first, I didn't have anything to remind me of home," said Jaime, who's signed to a four-month contract. "My dad had given me a laptop, and I slept with that for awhile."
Three weeks before the dress rehearsal, Jaime and the rest of the company moved to Pensacola, a steamy Florida Panhandle town that offered the twin benefits of a full-sized theater to work in and a relatively low profile.
"We're away from a world where the media has instant accessibility," said John Wimbs, the show's press agent. "If we were in New York, you can bet there'd be a critic in there tonight, telling people what's not together yet."
The audience was weighted heavily toward children, some of whose parents had won tickets in a radio contest or were associated with the theater.
"They're really vibrating," said Milton resident Lisa Webster, pointing to her 10-year-old son, Josh, and his cousin Shane Pudsey. "They're much more excited about going to see this than any movie."
The excitement level was palpable before the show, helped along by the "I Was First to be Scared" T-shirts given to all the kids there —- Josh and Shane were overheard plotting how they might each get a second one. There was also the obligatory souvenir stand hawking everything from Goosebumps watches and flashlights to key chains and puppets.
One thing, it seems, isn't for sale: A book version of Holmes' play, written by Stine, will be given free to young audience members in most cities.
"Hopefully, it will get more kids reading," said Stine. "This is what it's all about."
For now, the play's the thing. Back in the lobby after the dress rehearsal, a pint-sized mob scene broke out as Holmes and the actors emerged to sign autographs and answer questions. In the thick of things, Jimmy Howard, 14, said he hadn't really been that interested in seeing the show initially.
"And now I'm like pushing little kids out of the way to get autographs on my (souvenir) T-shirt," said the self-professed punk rock fan, who wore a Sex Pistols jacket and a rueful grin. "I thought it would be some not-so-great, low-budget, rinky-dink thing. I'll tell my friends to see it."
Comments like those were music to the ears of the Goosebumps team the next day. From their perspective, as well, the dress rehearsal had gone amazingly well —- mostly minor tinkering would take place during preview performances before the official world premiere in Atlanta.
Stine will be at the Fox Theatre on Thursday night, getting his first official look at the stage interpretation of his beloved series of books. And soon after, the rest of the Goosebumps team will know if they've pulled off their attempt at doing justice to Stine's work —- while at the same time creating a new genre of theater.
"This is a major risk. Is the expectation going to be the 'head' show?" Feld wondered aloud. "But it's absolutely the best thing for the integrity of the Goosebumps property."
There's already talk about coming up with new stories to replace these three when this tour of Goosebumps Live on Stage has run its course.
"I just think every person in America should be required to see this," Holmes said pleasantly. "And then they move on to Goosebumps '99.'"
Quick, somebody find Slappy.
     Back to WENN Lagniappe Page
---
Holmes Out to Give Families a Good Scare in Goosebumps

Roy Proctor (The Richmond Times Dispatch)

October 2, 1998—When the producers of the Ringling Bros. and Barnum & Bailey Circus approached Rupert Holmes a year ago about writing and staging a Goosebumps comedy-thriller, Holmes had a ready answer.

The show, which was to be Feld Entertainment Inc.'s first venture into proscenium theater, had been in rehearsal for years.

"I had started reading the Goosebumps books to my son, Nick, when he was 7," Holmes explained last Sunday by cellular phone from the banks of the Tennessee River, where he'd retreated after a matinee of his Goosebumps - Live on Stage! in Chattanooga.

Nick is now 11, and Richmonders will have a chance to see what this four-year gestation has yielded when Holmes' 90-minute, special-effects-filled show opens Wednesday at Richmond's Landmark Theater.

Feld Entertainment Inc. became interested in Holmes after seeing his play, Solitary Confinement, a vehicle for Stacey Keach, at the Kennedy Center in Washington.

"Solitary Confinement was a comedy-thriller that played lots of games with the audience," said Holmes, who lives in Westchester County, N.Y., and sports an American accent that belies his British birth. "That's very much a description of Goosebumps - Live on Stage!"

"Kenneth Feld arranged a breakfast meeting, and I started forming the whole thing for the producers at the table. I told them, 'We've got to have a fun house and a thriller set in a haunted theater.' It was then that we came up with the idea of telling several stories and then tying them together so they're stories within a story."

The fact that Holmes had written and scored Broadway's The Mystery of Edwin Drood - and won two Tonys for his efforts - worked in his favor when his name was mentioned to R.L. Stine, whose Goosebumps books have sold about 200 million copies, and his publisher wife.

"They loved that show, and they also knew me as the writer of Remember WENN on TV," Holmes said. "When I met with the Stines, we hit it off immediately. I signed on the dotted line a week later."

The Goosebumps books, which have yielded a popular TV series, some of whose episodes are on the video market, are usually considered kid stuff.

Not to Holmes.

"We're aiming from womb to tomb," he said. "It's actually a family thriller. It's designed first and foremost for kids, ages 5 to 15, who have loved the Goosebumps books, but I'm also hoping I'll entertain and amuse the adults who bring them there."

Goosebumps - Live on Stage! is no slavish adaptation of Stine's stories.

"The Stines asked me to write new Goosebumps stories of my own, and Stine pointed out one thing I'd perceived already - the kids in the stories solved their own problems.

"My show doesn't borrow plots from existing stories, but I did use elements in several Goosebumps books as underpinnings. Slappy [a ventriloquist's dummy] is the only character that comes over from the books."

Holmes has been tinkering with his creation since the tour opened three weeks ago in Pensacola, Fla.

"There's a chance I'll tweak it in Richmond, and I'll continue changing it," he said of the show he hopes to open in New York before next summer. "Why work in theater if you can't do that?

"You listen to the audience and, if the audience loves something three times in a row, you say, 'Let's give them more of that.' We've been streamlining transitions and finding a way to get the characters seamlessly from the kitchen to the attic.

"We've thrown in a couple of pyrotechnic effects now that we have a pyrotechnic expert traveling with us."

Just how scary is Holmes' latest creation?

"It's scary, but I try to always have a scare accompanied by a laugh," he said. "I don't think anything in this show is scarier than a thrill ride at Disneyland or Disney World. There's no violence and no blood. The kids will be glad they're scared but happy their parents are there, too."

Holmes draws a line between scares.

"A good scare is where you can vicariously enjoy a shock knowing that everything is going to turn out fine," he said.

"A good scare is taking that first dip in a roller coaster. A bad scare is stepping into an elevator shaft by accident. It's the same fall, but you know everything is going to turn out fine on the roller coaster, so you end up laughing as well as screaming."

Holmes also believes it's important that the protagonists in his show are children.

"If a kid sees an adult in a horror story, a kid says, 'When I grow up like that, I'll know what to do.' But when a kid sees another kid facing the same challenge and figuring out how to meet the challenge, this is empowering to kids.

"A scary story in which the kids are the heroes is more realistic to kids."

     Back to WENN Lagniappe Page
---
Success Gives Holmes Goosebumps
John Coulbourn (The Toronto Sun)
October 13, 1998—In a world where successful career paths are most often traced in a geometrically precise trajectory, Rupert Holmes' vitae read like the flight of the bumblebee.
Perhaps best known as the creator of the perennially popular "Escape" (also known as "The Pina Colada Song"), Holmes has also earned a brace of Tony Awards for his musical stage adaptation of The Mystery Of Edwin Drood and is a highly respected creator of stage mysteries like Accomplice, for which he earned an Edgar Award.
Further, Holmes has worked with a brace of big-name singers like Barbra Streisand, for whom he wrote several songs for A Star Is Born, and even enjoyed modest success as a pop singer in his own right, a career side trip that brought him to the Imperial Room and Ontario Place. He's also the driving force behind Remember WENN, a highly-acclaimed American sitcom, unseen here in Canada.
And if that's not an impressive enough career sweep, consider this: Holmes began his career composing scores for movies of, shall we say, an adult nature. And today, while he puts the finishing touches on a Broadway-bound musical stage adaptation of The Picture of Dorian Gray, he's also earning new respect as a creator of entertainment for young audiences.
The proof of his skill at the latter takes up residence this week at the Ford Centre, a stage treatment of those kiddylit classics, Goosebumps — Live On Stage.
But where the books are written by R.L. Stine, this stage version is written — that's as opposed to adapted — and directed by Holmes.
It took a bit of nerve to tackle a stage work under the Goosebumps title, Holmes admits from his suburban New York home, where renovators are hard at work.
"I'm terrible 'til I've had my first cup of sawdust in the morning," he cracks.
Kids, he concedes, returning to more serious topics, are inclined to view their literature with only slightly less reverence than zealots reserve for their holy books.
"I think this is one of the reasons the producers stipulated from the outset (that) they wanted me to write brand new stories," he explains.
"So I've been allowed to write these three stories," Holmes adds. "I tried to write them in a Goosebumps style, but they are original stories."
If the stories are new, however, not all of the characters grew fully formed from Holmes' imagination. Slappy, a marauding ventriloquist's dummy familiar to Goosebumps aficionados, makes a command performance courtesy of Nicholas, one of Holmes' two sons.
"Nicholas thinks the show is just his cup of tea," proud papa reports with a laugh. "But you have to understand. I worked backwards, knowing that if he didn't like it, I would be boiled in oil. If Slappy wasn't in it, I wasn't going to live in this house."
In the end, creating the show wasn't just a labour of love for his son, it turned into a labour of love for the theatre, too.
"I've written for every medium," Holmes reflects. "And I tell you, there's nothing like a play. Somehow, when I write a play, I feel like I'm in the fourth row and my arms are extended up to the stage.
"The thrill of doing Goosebumps, for me, is I'm trying to show kids the things I love about theatre that they may never have seen before."
As for his early days on the fleshy side of the movie business, Holmes is a trifle sheepish, but not even remotely apologetic.
"I was allowed to write those scores because nobody listened to them," he says with a chuckle. "Besides, I did the scores for those movies, I did not score in them."
Besides, when you're young, you'll do whatever it takes to get a buzz on a career.
     Back to WENN Lagniappe Page
---
(Note: unfortunately, the show closed before the Dayton performance.)

Things That Go Bump on Stage

Terry Morris (Dayton Daily News)

December 13, 1998—Rupert Holmes figures he "started working on the Goosebumps play before anyone even proposed the idea."

When his son (who is now 11) was 8, the Tony Award-winning playwright and composer started reading him R.L. Stine's creepy, kiddie-horror Goosebumps novels as bedtime stories.

"They're real page-turners with cliff-hangers at the end of each chapter. A lot of those sessions went on a lot longer than they were supposed to because I had to go on to the next chapter or chapters to find out what would happen," he said.

About the same time, producer Kenneth Feld was reading books from the popular series with his three daughters.

One night, he saw a Washington, D.C., performance of Holmes' play Solitary Confinement, which mixes mystery with comedy in characteristic fashion.

"My plays tend to wink at the audience," Holmes said.

Feld, who wanted to produce a Goosebumps play for families, decided Holmes might be the playwright to transfer the books to the stage.

"They [Feld and Stine] came to me and said: 'Goosebumps.' I said: 'I'm the man,'" said Holmes, who achieved an unprecedented Tony Awards double in 1986 as librettist and composer of the Broadway musical The Mystery of Edwin Drood.

Although Goosebumps, Live on Stage, is not a musical, Holmes is doing double duty as playwright and director of the $ 6 million production, which opens Tuesday night at Memorial Hall in Dayton as the ninth stop on a 50-city, two-year tour.

One aspect of a show with "some amazing stunts and special effects," will be new here. New York actor Gabriel Barre will be taking over for Paul Benedict (who played Englishman Harry Bentley on TV's The Jeffersons) in the role of Mr. Gander beginning Tuesday.

His character owns the bookstore that four children visit at the start of the show, thereby entering a series of adventures fashioned in Stine style.

"He taught me a lot about what's behind the Goosebumps books and how he works," Holmes said.

"R.L. Stine is actually one of the nicest guys I ever met, which he probably wouldn't want me to say. The day I met him, he was wearing a black shirt, black pants and a furrowed look. He said he had an interview later, and he was expected to look sinister during interviews."

Stine is looking sinister all the way to the bank. His more than 70 books are the best-selling kids' series of all time. He was number 36 on the Forbes list of "highest-paid entertainers" with $41 million in 1997 and is also the author of the Fear Street novels for 10- to 13-year-olds.

Holmes, who also wrote the Broadway thriller Accomplice and is working on the script and score for a musical based on Oscar Wilde's Picture of Dorian Gray, has known wide popularity himself. His best-known creation is the international pop hit "Escape (The Pina Colada Song)."

With Goosebumps, he set out to write a play that would appeal not only to the 8- or 9- to 14-year-olds who read the books, but also their parents.

"And I didn't want to make something that would traumatize the 4-, 5- or 6-year-old little brothers or sisters who might come along. Most of the chills in the show are connected to a laugh," he said.

The adventures in the play include a visit to a haunted theater and a fun house called Screamland "that would have scared me when I was young," he said. "One of our villains is the evil ventriloquist's dummy Slappy. My son would have disowned me if I hadn't included Slappy. We have Slappies of several different sizes, in fact."

The reviews have not all been raves. Critics in three of previous stops issued these verdicts:

"In many ways, an all-out commercial for Goosebumps." - Atlanta. "Surprisingly unscary." - Richmond, Va. "Lacklustre, with lamely two-dimensional characters." - Toronto.

But those were all written by adults who are near, immersed in, or beyond middle age.

Holmes said he bases a much more optimistic measure of audience reaction on his experience in the theater. "When the Act 2 curtain goes up, everyone is in their seat, and that takes some doing in audience with that many kids. The kids are enthralled with it. The show is doing everything we wanted it to do and then some."

     Back to WENN Lagniappe Page
---