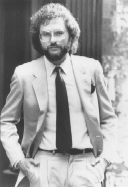 "Dickens Characters are Set to Music"
"Evolution of Drood as Musical"
"Drood Gets Audiences' Vote for Holiday Cheer"
"Wowing Broadway on 1st Try"
"Drood Hits the Road Without Missing a Beat"
"'Swing' Time"
"Complicated Plot, Versatile Cast Makes Accomplice Fun"

Dickens Characters are Set to Music
Stephen Holden (The New York Times)
June (??) 1985—"For years I was an apple trying to be an orange," Rupert Holmes reflected last week. As an "orange," the 38-year-old singer, composer and arranger toiled in the record business through the 1970's making seven pop albums and producing a number of acts, including Barbra Streisand.
Not until late 1979 did he score a major hit with the novelty "Escape (The Pina Colada Song)." Though the song, which has the distinction of being the very last No. 1 hit of the 70's, made him a small fortune, it didn't carry his pop music career very far. Three years ago, "Mr. Pina Colada," as he jokingly calls himself, was without a record label and with the time to finally explore new horizons. The conservatory-trained musician with an effusive literary wit decided at long last to become an "apple" and write for the theater.
The Mystery of Edwin Drood, Mr. Holmes's debut musical, begins preview performances Sunday evening at the Delacorte Theater in Central Park. It is this summer's second Shakespeare in the Park production, with performances running through Sept. 1. The show, for which he created the music, lyrics, book and orchestrations, contains 32 original songs and is the product of two years of intensive but loving labor.
"It's almost scary how easily all the songs came to me," Mr. Holmes said. "In every case, they were easier to write than the songs I'd been writing for records. Instead of having to be concerned about pleasing a program director or a record company executive or worrying about using fancy words, I've been able to invent a world in which I can write a lot more freely and use elaborate rhyme schemes. It has been a total delight."
Unfinished Dickens Novel
Directed by Wilford Leach, The Mystery of Edwin Drood is very loosely based on an unfinished Charles Dickens novel that Mr. Holmes first read in the mid-70's on a Los Angeles-to-New York train trip.
"The book was chock full of ripe Dickensian characters," he said. "It also had an interesting musical subtheme in its story of the choirmaster of a decaying English cathedral who leads a double life as an opium addict. Originally I thought of it as a serious Gothic horror musical. But when I finally got around to writing it, I decided to play games. I've always loved plays like Sleuth and Noises Off in which the theatrical machinery is observable. It became a show within a show.
"Since Dickens died halfway through writing the book, and left no notes, there have been conflicting theories as to the outcome of the plot," Mr. Holmes said. "The story itself is loaded with red herrings. Though I've read many different theories about how it ended, none are satisfactory. I decided that the audience should get to pick the murderer."
In Mr. Holmes's play-within-a-play format, the performers are a Victorian music hall troupe attempting with very limited means to put on its own version of the novel. Many of the theatrical conventions were borrowed from music hall revivals that Mr. Holmes had seen in London and that were conducted like town meetings presided over by a master of ceremonies with a gavel. George Rose plays the emcee and theater owner and Betty Buckley plays both the title role and Miss Alice Nutting. Cleo Laine, Patti Cohenour and Howard McGillin are also featured.
Born in England
Mr. Holmes's musical path has taken him over the years from classical clarinetist, to bubble gum pop producer, to Barbra Streisand's arranger-producer ("Lazy Afternoon" and parts of A Star is Born) and now to the theater. Born in England, Mr. Holmes grew up in Nyack, N.Y., where he was both a serious clarinet student and a rock-and-roller. After majoring in composition at the Manhattan School of Music, he became a journeyman pop writer-producer-performer under various pseudonyms. It was Mr. Holmes who concocted the 1971 novelty hit "Timothy," about cannibalism during a mining disaster. In 1973, he released his first album, the cult classic "Widescreen," a collection of cinematically inspired pop songs that won critical respect.
In the mid-70's, Joseph Papp, the producer of the New York Shakespeare Festival, who had admired Mr. Holmes's records, approached him with the idea of creating a show around the song "Studio Musician" from his second album, but he was too busy trying to hit the pop jackpot. When "Escape" finally gave him a taste of the pop success he had craved, he found it anticlimactic.
"It was like having dessert instead of a really good meal," Mr. Holmes said. "I found myself performing at Disney World for a fortune and being screamed at by 17-year-old girls. It all felt a little silly."
Mr. Holmes is very happy with the score for Edwin Drood, which he described as a "pastiche."
"Though the show is set in 1880, I didn't want to write Gilbert and Sullivan-styled music," he said. "It is a composite of influences, from the Episcopalian hymnal, English vaudeville music, Gilbert and Sullivan, and traditional Broadway. What I've tried to do with all these styles is create the feel of 1880 the way Kurt Weill in Threepenny Opera made you feel you were hearing 1920's cabaret without it really being tied to one place or time. This is not Nicholas Nickleby set to music—it's not a Dickensian work. It's light and fun and entertaining. But I hope—I think—that Dickens would have enjoyed it."
The show, which is set at "the Prince Albert Pavilion and amusement pier at Greater Dorping-on-Sea," will involve pre-show festivities one might have seen at a working-class seaside resort in 1880's Britain. Acrobats and magicians will perform, and traditional British pub food will be sold. "Air traffic," Mr. Holmes said, "is to be thought of as a steam-driven kite competition."
The festivities will begin about 7 P.M., and the performance starts at 8. Free tickets are distributed at 6:15, one per person, at the Delacorte Theater box office. Ticket holders must be in their seats by 7:45. The Delacorte can be reached by entering Central Park at 81st Street and Central Park West or 79th Street and Fifth Avenue. For information, the number is 861-7277.
---
Evolution of Drood as Musical
Samuel G. Freedman (The New York Times)
August 28, 1985—One night in early 1983, resting backstage after a performance at an East Side nightclub, Rupert Holmes got a note. Enjoyed your show," it said. "Are you interested in writing a musical? If so, call me." The signature belonged to Gail Merrifield, director of play development at the New York Shakespeare Festival.
Her query found an appropriate quarry. After years as a singer, songwriter and producer for his own records and for such artists as Barbra Streisand, Mr. Holmes felt restless. There had to be more to music, he reasoned, than being remembered for a No. 1 hit entitled "Escape (The Pina Colada Song)."
But when it came to writing a musical, Mr. Holmes was a beginner. He had only one idea, and it dated from the time he was 9 years old. "In our house," he recalled, "we had one of those complete sets of Dickens you can buy by the yard to fill up your bookshelves. And the last one was The Mystery of Edwin Drood. I remember my father telling me, "You know, it's not a mystery like Tower Treasure or one of those," and that it was never finished. That haunted me, the idea Dickens never finished it."
So began the development of Mr. Holmes's new musical, The Mystery of Edwin Drood. The playful evocation of Dickens runs at the Delacorte Theater in Central Park through Sunday and is to reopen Dec. 2 on Broadway. With Edwin Drood, Mr. Holmes has become the second popular songwriter this year to successfully cross over into show music—the other being Roger Miller, who won a Tony Award for his score for Big River, his first musical.
Wrote the Book Also
Mr. Holmes, though, was not satisfied with writing music and lyrics in his maiden attempt at a musical; he decided to do the book as well. He pasted Miss Merrifield's note on his typewriter and began writing a synopsis of Dickens's unfinished mystery. In the process, he made many of the choices that shaped the musical's final form.
First came the idea of making Edwin Drood a multiple-choice musical, in which the audience votes on several matters, including whether Drood is alive or dead and, if he is dead, who slew him. "I just thought, how would anyone have the chutzpah to finish what Charles Dickens couldn't," Mr. Holmes recalled. "I thought, well, there doesn't have to be the ending. Let the audience end it. If they don't like it, they chose it. Mr. Holmes also decided that the audience should see not simply a musical adaptation of Edwin Drood but a musical-within-a-musical—a version of the mystery performed by a fictitious English music-hall troupe. "I wanted Drood to provide the springboard for the musical in the way Hamlet provided the springboard for Stoppard in Rosencrantz and Guildenstern Are Dead," Mr. Holmes said. "You go to that play knowing you're not seeing Hamlet, but something suggested by it."
The music-hall conceit also had two practical aspects. It let Mr. Holmes apply his knowledge of Victorian vaudeville and it coincided with his notion to have a woman (Betty Buckley, as it developed) play Drood, for the male impersonator was a stock convention of such entertainment. And with a woman in the male lead, Mr. Holmes could indulge his musical fancy, writing a love duet for two sopranos (Miss Buckley and Patti Cohenour in the current production).
Mixed Verdict
In the summer of 1983, Mr. Holmes laid out his plan to Miss Merrifield and Joseph Papp, the producer of the Shakespeare Festival. The verdict was mixed. "We were interested in Rupert," Mr. Papp recalled, "but we weren't sure the show would work. It was risky. It put a lot of pressure on the audience."
Miss Merrifield, however, remained a complete ally—and a particularly effective one, since she is married to Mr. Papp. "I didn't have to badger Joe about the show," she said. "I just brought Rupert's name up at breakfast every morning."
Mr. Holmes delivered Act I, all two and a half hours of it, in early 1984. By the spring he had a first draft of the complete show. It ran 3 hours 40 minutes. "I offered to cut one number," Mr. Holmes said.
In fact, a long process of shaping the work began. Mr. Holmes recognized that his story remained too reverent to Dickens, so he put more emphasis on the vaudeville side. Scenes were shifted from the second act to the first. Two or three songs were cut, as were chunks of explanatory dialogue.
But if Mr. Holmes's inexperience with musicals led to some early errors, it also allowed him to invent freely. The second act, for instance, has three straight production numbers with barely any dialogue between, something anathema to most musicals but effective for Edwin Drood.
"Only What Appealed to Him"
"If he knew then what he knows now about musicals," said Wilford Leach, the director of Edwin Drood, "it wouldn't be the same show. Since he didn't try to fulfill what a Broadway musical is, since he did only what appealed to him, the show has the signature of a person, not a committee."
"I didn't do this by logic, Mr. Holmes said. "I just went by, 'Wouldn't this be fun.'"
A number of major actors thought so, very early on. George Rose, who oversees the musical as "Your Chairman," joined the project for the first staged reading. Other principals, including Miss Buckley and Cleo Laine, took part in the second reading.
"I've known Rupert's work for a long time and I'd always been attracted to his records," recalled Miss Buckley, who won a Tony Award for her role as Grizabella in Cats. "And I've always hoped that pop composers, the better composers from the record marketplace, would write more for the theater. So when I heard Rupert was writing this show, it was like a philosophical obligation to do it."
Further Work Needed
Edwin Drood opened in the Delacorte after only three weeks of rehearsals, clocking in at close to three hours. Most of the show's creative team saw the need for further work on the show but decided to freeze it rather than make major changes during the run. "It was frustrating to see what needed work," Mr. Papp said. "It was like closing up an operation before you're done with the surgery."
But with the transfer to Broadway three months off, Mr. Holmes says he has time to trim and focus some scenes and to write new orchestrations for several musical numbers.
He is also taking time, in his fretful way, to savor the accomplishment so far. The other day, getting a ride to the theater, Mr. Holmes was nagging the driver about being more careful. The driver asked what the problem was. "I said, 'I really don't want to die just now,'" Mr. Holmes recalled. "Being alive now is the best it's ever been."
---
Drood Gets Audiences' Vote for Holiday Cheer
Richard Christiansen (The Chicago Tribune)
December 17, 1985—Just in time for the holidays, The Mystery of Edwin Drood has arrived to bring a bit of good cheer and jolly camaraderie to the Broadway season.
This musical adaptation of Charles Dickens' last, uncompleted novel was first staged outdoors last summer in Central Park as a free presentation by the New York Shakespeare Festival. Moved indoors by producer Joseph Papp to the Imperial Theatre, where a top ticket goes for $45, the production has kept most of its original, zestful cast and apparently has lost none of its invigorating charms.
Rupert Holmes, the pop composer who wrote the show's book, music and lyrics, has framed the action of the Dickens mystery in a convivial 19th Century English music hall setting, complete with a jovial master of ceremonies to narrate the story, introduce the actors in their roles and prepare the way for the various songs and diversions that add to the enlivening of the evening.
Because Dickens died before he finished his novel, about the disappearance of a young Englishman in a quiet cathedral town, Holmes has had the bright idea of letting each evening's audience decide on the solution to the mystery by popular vote—choosing the murderer from six suspects and also deciding which man and woman in the cast shall form the couple to sing the evening's last love song for a happy ending.
The process of getting the audience to participate gladly in the "solution" of the Mystery is accomplished by a large cast that, from chorus to principal, catches the customers in an embrace of agreeable partnership.
At the summit of this engaging company is George Rose, whose infectious high spirits and incomparable delivery as the music hall's "chairman" provide unflagging merriment throughout.
He is not alone in his captivating energy, however. To a man, the cast joins in the cordial spirit of the show and powers the plot and songs along with top-drawer professionalism.
Among the outstanding performers: songstress Cleo Laine, as a blowsy, but lovable opium den mistress, and Betty Buckley as the pert (but temperamental) male impersonator of the troupe who plays Edwin Drood.
The fun also includes Patti Cohenour as Edwin's innocent (or is she) betrothed, and, in a smashing performance of show business style, Howard McGillin as her crazy-with-love music teacher.
Filling in other roles superbly are George N. Martin as a meek cleric; Jerome Dempsey as a tippling tomb attendant; Stephen Glavin as his quick-stepping deputy; Joe Grifasi as a bespectacled bit player who gets his chance at center stage at last; Chicagoan John Herrera as a dark, handsome, vain suitor from Ceylon, and, in a sensational comic portrayal, Jana Schneider as his sexy, sinuous sister.
Wilford Leach, who ripped up similar hijinks for Papp's production of The Pirates of Penzance, has staged the story with one inventive bit of stage business after another, some deftly thrown away and others played to the hilt. Sumptuously designed in 19th Century style, Bob Shaw's settings, teamed with Lindsay W. Davis' costumes and Paul Gallo's lighting, looked like picture perfect Victorian scenes.
Holmes' theater songs vigorously add character and action to their tombs, and choreographer Graciela Daniele animates them with a terrific, high-kicking chorus.
The Mystery of Edwin Drood owes at least a little of its success to such precedents as Nicholas Nickelby, The Pirates of Penzance, and, acknowledged with a sly bit of kick-step fun in a big dance number, A Chorus Line. But it stands buoyantly on its own as an irresistible invitation to happiness.
THE MYSTERY OF EDWIN DROOD
A new musical with a book, music, lyrics and orchestrations by Rupert Holmes, produced by the New York Shakespeare Festival and directed by Wilfred Leach, with scenery by Bob Shaw, lighting by Paul Gallo, costumes by Lindsay W. Davis and music direction by Michael Starobin. Opened Dec. 2 in the Imperial Theater, 249 West 45th St., New York, and plays at 8 p.m. Thuesdays through Saturdays with matinees at 2 p.m. Wednesdays and Saturdays and 3 p.m. Sundays. Length of performance, 2:35. Tickets are $25 to $45. Phone 212-239-6200.
---
Wowing Broadway on 1st Try
Leonard W. Boasberg Knight-Ridder Newspapers)
June 7, 1986—"Up until yesterday I was working in a hardware store, and then I decided to write a Broadway musical."
What?
"No, I'm kidding."
That's Rupert Holmes, on a pay telephone in a coffee shop at 41st Street and Third Avenue in New York, between interviews all over the town.
Before the evening of June 1, Holmes probably was best known to the public as the composer of such hit pop tunes as "Escape (The Pina Colada Song)," "Him" and "Answering Machine."
But early in the program of the 40th annual Tony Awards show, there was the 39-year-old graduate of the Manhattan School of Music being summoned to the stage to receive a Tony for best book of a musical: The Mystery of Edwin Drood, an audience-participation whodunit based on Charles Dickens' unfinished novel. And then, 10 seconds after he gave his little speech, there he was again, getting another Tony for best original score for Drood.
Until Drood, for which he wrote book, music, lyrics and score—a Broadway first, he said, as far as anyone knows—he'd never written for the theater. No kidding.
So how did he get the assignment?
He got it, he said, because Drood producer Joseph Papp, who knew his work, asked him to take it.
Over the years, Holmes' songs—he calls them "story songs," or "situational songs," mostly about contemporary couples and missed connections in romance—have been sung by such performers as Barbra Steisand, Dolly Parton, Barry Manilow, Dionne Warwick, Manhattan Transfer, Judy Collins, Rita Coolidge and Holmes himself.
Papp approached him at a time when "I was in the mood to try to write something longer than 3 1/2 minutes with a fade ending," he said. But he, nevertheless, was hesitant about doing a Broadway show. "When you get involved in a Broadway musical, you're making a two-year commitment, and it can all be ended in one night by a couple of critics," he said. "It's a kind of scary gamble."
The gamble, of course, paid off, not only in the two Tonys that Holmes won but in the three others awarded to the show: best musical, best director (Wilford Leach) and best actor in a musical (George Rose).
Born in Cheshire, England, the son of an American GI who married an Englishwoman, Holmes came to the United States with his parents when he was 3 years old. He grew up in Nyack, N.Y., and started studying music at the age of 8.
"I grew up getting equal doses of Mozart, Duke Ellington, Richard Rodgers and the Everly Brothers," Holmes said. His father was a high school music director who, as a clarinetist, had played with Artie Shaw. Young Holmes started out on the same instrument, expecting to be a classical clarinetist.
"But during the '60s, when I was in high school, like so many American boys I wanted to be another John or Paul or George or Ringo, so I taught myself guitar and piano and started writing pop songs," he said.
At Manhattan School of Music, he quit the clarinet and started studying composition. "That really was the direction I wanted to go . . . but I also loved writing, so I decided the best way to have my cake and eat it was to write story songs, little 3 1/2-minute vignettes."
His first album, recorded in 1974, was called "Widescreen." It didn't sell very well, he said, "because the people who signed me left the label before the album came out." It did, however, become something of a cult classic, and one copy got to Barbra Streisand, who asked Holmes to come out to Los Angeles and work with her.
"She recorded seven songs of mine on three different albums, the first of which, called 'Lazy Afternoon,' which I also produced and arranged, was a certified platinum album (a million or more copies sold)," he said.
"Escape (The Pina Colada Song)" came out in 1979 and has sold more than 8 million copies. That was also the year, he said, when he made his professional debut as a performer, at the Bijou Cafe in Philadelphia.
He's still writing songs, but, he said, "when you write songs for records, you have to write songs that fit into the contemporary world; when you write for the theater, you invent a world, and that's the joy."
He's working on another musical, one that, like Drood, involves a play within a play.
"I can't tell you too much about it," he said, "because it's a mystery and I don't want to give away too much. But the setting is Broadway—as well as the ultimate destination of the show, I hope."
---
Drood Hits the Road Without Missing a Beat
Michael Kilian (Chicago Tribune)
April 15, 1988—The story is the stuff of one of those Broadway musicals about Broadway musicals: a pop-rock singer-composer with only middling success abandons his performing career for two years to risk everything on the creation of a tricky, unconventional musical comedy based on an obscure, unfinished murder mystery by Charles Dickens. The show is not only a smash Broadway hit but wins five Tony awards, including three just for him.
The singer-composer is English-born but quintessential New Yorker Rupert Holmes, who hitherto had been best known for his 1979 pop hit "Escape" (or "The Pina Colada Song") and had devoted much of his career providing musical assistance to bigger celebrities, notably Barbra Streisand.
The show is The Mystery of Edwin Drood, which ran 618 performances from 1985 until last year and was still packing houses when it closed. It piqued national curiosity for having audiences each performance vote their choice of an ending and solution to the mystery that death prevented Dickens from providing.
Now, with the title shortened to Drood, a largely new cast and some changes in script and score, Holmes has taken the show on the road, starting at the Kennedy Center and moving on to Boston, Dallas, Houston, Atlanta, Indianapolis, Detroit, St. Louis, Pittsburgh and Chicago (perhaps in November at the Chicago Theatre).
It's as rousing, rowdy, colorful and quaint as the original. Despite its Dickensian flavor and Victorian setting, an English music hall of a century ago, it's a genuine American musical comedy and serves as a response to the British exports—Cats, Les Miserables, Starlight Express, Phantom of the Opera—that have come to dominate the U.S. musical stage in recent years.
The play won 1986 Tonys for best musical, original score, book, direction and actor, with the first three going to Holmes (an unprecedented achievement); the direction award to Wilford Leach; and the last to star George Rose, who earlier in his career had won a Tony playing Eliza Doolittle's father in My Fair Lady. Drood also captured the 1986 Drama Desk and Outer Critics Circle awards and a mystery writers' Edgar prize for best play.
As Holmes emphasized in an interview in Washington, Drood is not a Dickensian spectacle in the style of Nicholas Nickleby or Oliver! but an American depiction of a lusty Victorian musical hall company's rollicksome attempt to make a musical play out of Dickens' intriguing incompletion.
"It has the same relationship to Dickens that Kiss Me Kate does to The Taming of the Shrew," he said, noting that it owes as much to American vaudeville and burlesque as it does to 19th Century popular literature.
Or, as said more simply by Rose as the character William Cartwright, the music-hall company impresario whose narrative and interjections drive the show: "Let's all be as vulgar and uncivilized as is legally possible."
Rose, who also gave memorable Broadway performances in A Man for All Seasons, Coco, and The Pirates of Penzance, came out of unofficial retirement to do Drood on the road; and Holmes happily concedes that the show would be empty without him. "It would be like trying to do The Producers without Zero Mostel," he said.
Jean Stapleton of TV's All in the Family is wonderfully blowsy as Princess Puffer, queen of a London opium den, though she presents quite a different character than the sultry Cleo Laine did in that role in the original Broadway production. Paige O'Hara, who plays the title role of Edwin Drood as she did in New York, is a poor male impersonator but a very sexy comedian.
Teresa De Zarn (as the lovely blond Rosa Bud), Jana Schneider (as the half-Ceylonese, half-English Helena Landless), John DeLuca (as her sneering brother Neville), Tony Azito (as the daft gravedigger Durdles) and Mark Jacoby (as the crazed John Jasper) carry out Holmes' zany scheme splendidly.
A highly energized man whose rapid-fire speech contains both hints of a British accent and not a little Woody Allen, Holmes is the son of a Jewish New York classical musician father and a British Episcopal hymn-singing mother. He grew up absorbed by every kind of music, from Duke Ellington and the Everly Brothers to Ravel, Debussy and Leroy Anderson. His formal education came from the Manhattan School of Music.
Holmes threw himself into the pop music scene in the 1970s but never achieved any greater prominence as a nightclub performer than as "a thinking man's Barry Manilow." For a time he was best known as the producer of Streisand's album "Lazy Afternoon" and scorer of her 1976 movie A Star is Born. He also has composed songs recorded by Manilow, Dolly Parton, Judy Collins, Rita Coolidge, Mac Davis and the Manhattan Transfer.
A compulsive virtuoso who likes to work in his suburban New Jersey basement, he avoids the Los Angeles and Hamptons social set, and listens to recordings of trains, seagulls and breaking waves for relaxation. He found his labors on Drood to be "arduous, but always pleasurable.
"It was so much fun to write for this mythical England and to write for these silly characters and to play these games. I hoped that would come across, that the people would have this unconscious sense that the guy who wrote it was probably enjoying it at least as much as they were."
He's completing a musical, set in the Big Band era of the 1940s and called From Time to Time. A song from the show, "You Got it All," has been recorded by the pop group, the Jets, and last year was a Billboard magazine No. 1 hit.
Holmes also is continuing his close association with Streisand, arranging and composing her new "Back to Broadway" album, to be released by Columbia Records this fall. It will include the lushly romantic "Moonfall" from Drood and will be reminiscent of Linda Ronstadt's collaboration with arranger Nelson Riddle (one of Holmes' heroes) in bringing back remantic ballads of earlier decades.
Rather than using music "to create an atmosphere" and have it on "while making phone calls," he wants to people who tune in to his music "to listen to it!"
---
(Linda's note: I've included the following even though Swing was not produced because you've heard one of the principal characters referred to in at least two WENN episodes, "Klondike 9366" and "The New Actor": Eddie King, "the earl of swirl and swing."
"Swing" Time
Enid Nemy (New York Times News Service)
July 19, 1990—Rupert Holmes says that a realistic time estimate for his new show, Swing, for which he has written book, music and lyrics, is next spring and that he has already raised a great deal of the $4 million or more it will cost.
"It's a big Broadway show that will have a big cast, lots of choreography and lots of sets," said Holmes, who has been working on the musical for almost four years, with time out for his recent Broadway thriller, Accomplice.
The new show, about the Big Band era, is set in 1946-47—"a wonderful time in American history and the last gasp for the Big Bands."
The principal characters are a band leader, a singer and an arranger.
Holmes, who wrote The Mystery of Edwin Drood, said this one, too, will have "a mystery element because I find it hard to have characters where no one gets murdered."
At the moment, "to keep me off the streets in August," Holmes is planning an album of the show's songs with Lou Rawls and Marilyn McCoo, for prospective investors.
---
Complicated Plot, Versatile Cast Makes Accomplice Fun
Richard Christiansen (The Chicago Tribune)
February 11, 1991—Rupert Holmes' "Accomplice" is a two-act, four-character mystery thriller that tries devilishly hard to be diabolically clever.
It's a play-within-a-play-within-several-plays which is determined to confuse and deceive its audience right from the start. And by the time it's over, the line between reality and illusion has been thoroughly smudged in a smoke screen of electrocutions, stabbings and shootings.
More than that one probably should not say, since Holmes' extremely convoluted plot depends for much of its surprises on a series of domino-effect tricks that the author has laboriously laid out for his viewers.
It's doubtful that the customers believe for a moment in any of this deception, but the fun for them is not so much in being actually deceived as in watching to what clever and complicated lengths the author will go in order to spin out his web of puzzlements.
Anthony Shaffer pulled off the tricks of this trade most brilliantly in his 1970 two-character mystery, Sleuth, a model of its kind which was further refined by Ira Levin's Deathtrap in 1978. Holmes' Accomplice is partly a spoof of Sleuth and Deathtrap, but it uses some of those two plays' same high jinks and comic effects in order to arrive at its own surprise ending.
Holmes, author and composer of the Tony Award-winning musical, The Mystery of Edwin Drood, has set Accomplice in a typically tweedy country setting for his murderous doings, a place called "Dorping Mill, the renovated moorland residence of Derek and Janet Taylor, on an English autumn afternoon in the mid-1970s."
The story begins quietly enough, with a proper Englishman entering the home, hanging up his umbrella, removing his derby and tossing down a gin and tonic before being greeted by a woman who appears to be his wife.
That's the first mistaken assumption the audience is encouraged to make; from then on, there are many more such confusions, including a married couple who aren't married, heterosexual affairs that are only fronts for naughty gay and lesbian kisses, heroes who turn out to be villains and murder victims who aren't really dead.
All this is treated light-heartedly, or smirkingly, with many inside show-business jokes thrown in for good measure, and with a willing cast breezing along under Steve S. Billig's peppy direction.
To identify each person in the ensemble would be to give away some of the secrets of the playwright's juggling act, but it should be noted that each of the individuals involved races through the dialogue and the action with minimal missteps. And in a play as heavily loaded with physical and vocal spins as Accomplice, that's quite an accomplishment in itself.
     Back to WENN Lagniappe Page
---